Secret Service makes me nervous: Rules for Democrats appear to be different:
Irving Berlin's last musical was a largely forgotten show called "Mr. President" (1962). One of the silly songs below his usual high standards included the lyric "The Secret Service makes me nervous."
That's how I felt after the agency, charged with protecting the president, delivered a report that said it could not find the person responsible for bringing cocaine into the White House.
No fingerprints on the plastic bag. No DNA. No video of someone who might have placed it in a small locker in a visitors area where cellphones and other prohibited items are stored until one leaves.
In one of the most secure buildings in the world. With cameras and monitoring devices in plain view and also hidden on every floor.
NBC News reported that the agency failed to interview anyone about the incident.
The Secret Service managed to find marijuana in the White House last year. Twice. No one was arrested because the amount was under the legal threshold for federal charges, nor did it rate as a misdemeanor under D.C. law.
Drugs alter the mind. Perhaps we should call it real artificial intelligence. It might explain some of the bad policies of this and previous administrations.
My family has been attending White House functions since the Coolidge administration. My maternal grandfather and first lady Grace Coolidge were first cousins. A picture I treasure is of my mother (at age 9), grandmother and great-grandmother standing in the White House driveway next to President Warren Harding in 1922. Harding died the following year, and Vice President Calvin Coolidge became president.
I suspect if any of them had been asked where they could find drugs, they would have been directed to a nearby pharmacy. That addictive drugs are now found in a hallowed building where great presidents once served and saved the nation is another indication of how far we have sunk when it comes to what used to be called standards. --->READ MORE HERE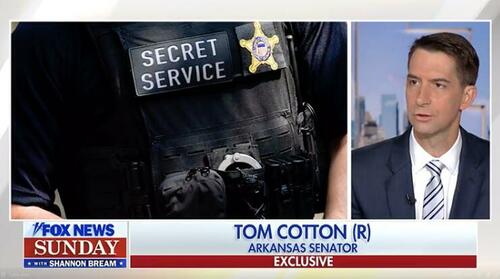 Cotton: Secret Service Didn't Even Talk To Hunter Biden About White House Cocaine:
Following the announcement that the Secret Service has shut down the investigation into the cocaine found inside the White House without finding a culprit, Senator Tom Cotton said Sunday that they didn't even talk to Hunter Biden about the matter.
"We've got no answers," Cotton said during an interview with Fox News, adding "That's not surprising. The Secret Service is a troubled agency as it's long had challenges. It probably needs new leadership."
"I take this very seriously. I mean, what if this was anthrax?" Cotton continued, adding "This is supposed to be the most secure building in the world. Yet the Secret Service closed down this investigation after just a few days."
"It's my understanding, they barely conducted in any interviews. I don't think they interviewed the president's son, who's a known cocaine addict," the Senator urged.
"This is like if Hamburglar lived in the White House, all the hamburgers disappeared, and they said they didn't have any suspects or know one they could question," an exasperated Cotton added.
"They know who went through those doors, so they can interview them as well. If the president were really serious about it, he could demand everybody that goes through those doors, submit to a drug test," Cotton noted.
He continued, "You can use hair testing samples and identify anyone who's used cocaine in the last few months. Those are the steps you would take if you took this seriously. This just seems like another Biden cover up." --->READ MORE HERE
Follow link below to a relevant story:
+++++Trump says Secret Service knows who brought cocaine into the White House+++++
If you like what you see, please "Like" and/or Follow us on FACEBOOK
here,
GETTR
here
, and TWITTER
here
.