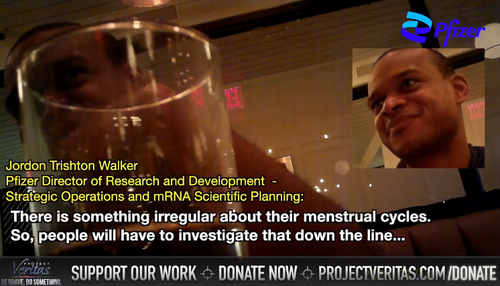 'The Scandal Would Be Enormous': Pfizer Director Worried About Vax-Induced Menstrual Irregularities:
Project Veritas on Thursday released a new segment of undercover footage of Pfizer director Jordon Walker in which the Director of R&D within the company's mRNA operation expressed concern over how the COVID-19 vaccine may be affecting women's reproductive health.
"There is something irregular about the menstrual cycles. So, people will have to investigate that down the line," Walker told an undercover journalist he thought he was on a date with.
"The [COVID] vaccine shouldn't be interfering with that [menstrual cycles]. So, we don't really know," he added.
Walker also hopes we don't discover that "somehow this mRNA lingers in the body and like -- because it has to be affecting something hormonal to impact menstrual cycles," adding "I hope we don't discover something really bad down the line…If something were to happen downstream and it was, like, really bad? I mean, the scale of that scandal would be enormous."
Watch: --->WATCH HERE
Oops, a Study Says the New COVID Pill Is Actually Mutating the Virus:
A new, non-peer reviewed study says Merck's COVID-19 pill, Lagevrio, can mutate the coronavirus.
The effectiveness of Covid-19 drugs is often less than initially claimed, according to updated information.
Instead of stopping COVID-19, Merck's Lagevrio drug may actually help mutate the virus, according to a new, non-peer reviewed study. Merck, meanwhile, denies the accuracy of the study.
Researchers from the U.S. and the U.K., including the Francis Crick Institute and Imperial College London say that the drug's purpose of mutating the COVID genome to restrict the virus from spreading within a patient may create more mutations of the virus that can then pass to other people.
Using a drug like Lagevrio to switch up the genetic code of the virus may not always be a great idea, according to the study authors. Jonathan Li, a virologist at Harvard Medical School and Brigham and Women's Hospital in Boston --->READ MORE HERE
Follow links below to relevant/related stories and resources:
Pfizer Responds After Director Says Company Is Developing Ways To Mutate COVID-19
Pfizer forecasts big drop in revenue after record $100M COVID-led haul
USA TODAY: Coronavirus Updates
WSJ: Coronavirus Live Updates
YAHOO NEWS: Coronavirus Live Updates
NEW YORK POST: Coronavirus The Latest
If you like what you see, please "Like" and/or Follow us on FACEBOOK
here,
GETTR
here
, and TWITTER
here
.