Russian cruise missiles rain down on southern Ukrainian city:
Cruise missiles fired by Russian strategic bombers struck a southeastern Ukrainian city late Friday, killing at least three people and wounding 15, as air raid sirens went off across the country, officials said.
The attack on Dnipro came a day after a Russian missile strike killed at least 23 people and wounded more than 200 in Vinnytsia, a city southwest of Kyiv, the capital.
Russia's military campaign has been focusing on the Donbas in Ukraine's east, but Russian forces also have been pounding other parts of the country in a relentless push to wrest territory from Ukraine and soften the morale of its leaders, civilians and troops as the war nears the five-month mark.
Ukraine's air force said several Kh-101 cruise missiles fired from Tu-95MS strategic bombers over the Caspian Sea hit a factory about 10 p.m. in Dnipro, a major city on the Dnieper River. Four incoming missiles were intercepted, it said. Videos posted on social media showed fiery explosions and towering plumes of dark smoke.
The regional governor, Valentyn Reznichenko, said the missiles hit the factory and nearby streets, killing at least three people and wounding 15.
One of the dead was a bus driver who had just finished work and was returning to the depot when a missile struck, said Ivan Vasyuchkov, a member of the city council. The emergency service said two vehicles were burned up and 10 others were damaged. The missile strikes also set the factory on fire and blew out windows in nearby apartment buildings. --->READ MORE HERE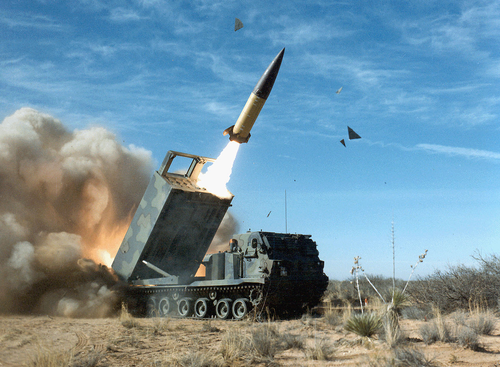 Ukraine Pushing Hard To Get Rockets With 300km Range From US:
The Zelensky government is pushing hard for the US to begin providing longer-range missiles for the High Mobility Artillery Rocket System (HIMARS) recently provided to Ukrainian forces. Currently US-supplied rockets are believed to have a range of up to 50km or 70km.
This week a senior Ukrainian lawmaker, Fedir Venislavskyi, told national media that Ukraine is seeking rockets that can hit targets up to 300km away (or almost 190 miles), but the Biden administration has not agreed yet.
"At all levels, our state is negotiating with U.S. representatives about the need to provide us with longer-range missiles for HIMARS. Currently, we have up to 70 km, and in general, these missiles of various modifications are able to hit enemy objects at a greater depth. Therefore, I think that there is every chance to break through this and get long-range missiles," the politician said.
Four more HIMARS have in the last weeks been transferred to Ukraine, but the total number is believed to remain less than a dozen, which Kiev has called a "game changer". France24 has also reported on Ukraine's hard lobbying efforts in search of longer range missiles: --->READ MORE HERE
Follow links below to
+++++relevant+++++
and related stories:
+++++Russia-Ukraine News LATEST UPDATES: (REUTERS) (AP) (NY POST) and (WSJ)+++++
+++++Ukraine Leans on Elon Musk's Starlink in Fight Against Russia+++++
+++++Watch: Impact of Russian Strike Knocks Down Civilians, Showers Debris+++++
Russia's information war expands through Eastern Europe
Despite his delusions, Putin is no Peter the Great
Ukraine condemns Russia strike that killed 23 in 'ordinary, peaceful' city
Ukraine's Zelensky Denounces Russian Strikes Across Country
Poland to buy 116 used Abrams tanks from U.S., says minister
Russian-held Popasna in Ukraine is a ghost town after end of siege
Russian McDonald's successor claims it has been cut off by French fries suppliers
Ukrainian gymnast Ruslan Mezentsev auctions Olympic medal to help war against Russia
To Escape the War in Ukraine, First They Had to Cross Russia
'Bang, bang': Children live and play near Ukraine front line
If you like what you see, please "Like" and/or Follow us on FACEBOOK
here,
GETTR
here
, and TWITTER
here
.