Barr Appoints Durham as Special Counsel to Continue Probe under Biden:
Attorney General William Barr has appointed U.S. attorney John Durham as special counsel to secure his probe into the origins of the Russia investigation as president-elect Joe Biden prepares to take office.
The authority of the special counsel will make it more difficult for the incoming Biden administration to fire Durham, allowing the attorney to continue his work on the probe. The order appointing Durham special counsel is dated October 19; however, Barr wrote that the order should not be made public until after the general election, "because legitimate investigative and privacy concerns warrant confidentiality."
News: Here is a copy of the order from Barr appointing John Durham as special counsel of the investigation into the origins of the Russia probe pic.twitter.com/rUFbDO6Amj

— Alayna Treene (@alaynatreene) December 1, 2020
--->READ MORE HERE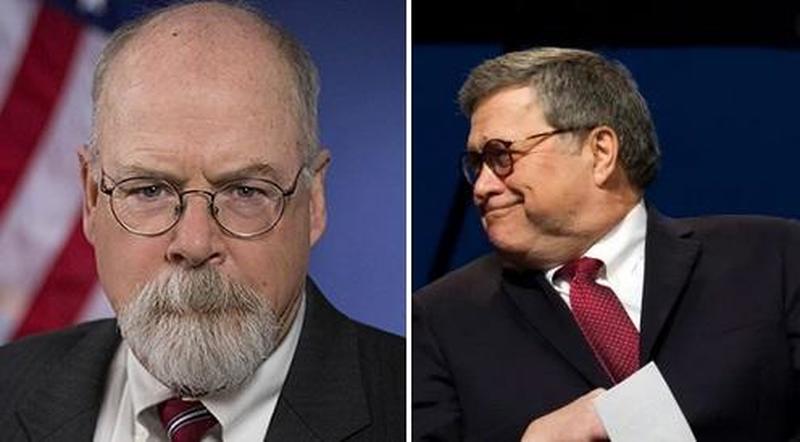 Durham Gets Special Counsel Upgrade 'To Protect' Russiagate Origins Investigation:
Attorney General William Bar has upgraded US Attorney John Durham to special counsel, affording him extra protection against a Biden administration canceling his investigation into the origins of the FBI/DOJ Trump-Russia probe - which cost taxpayers over $40 million and dominated the news for over three years.
According to the Associated Press, Barr said Durham had been appointed special counsel in October under the same federal statue which governed Robert Mueller's investigation in the Russia probe.
He said Durham's investigation has been narrowing to focus more on the conduct of FBI agents who worked on the Russia investigation, known as Crossfire Hurricane.

The investigations grew out of allegations of cooperation between Donald Trump's 2016 presidential campaign and Russians to help him defeat Democrat Hillary Clinton. -AP --->READ MORE HERE
Follow links below to related stories/opinions:
Barr Appoints John Durham As Special Counsel To Investigate Russiagate Spying Abuses
John Durham Appointed as Special Counsel to Keep Obamagate Investigation Active
Barr Beefs Up Criminal Investigation Into Mueller's Trump-Russia Probe with Key Appointment
Russia Probe in Overtime: Unpacking Barr's Latest Durham Appointment
If you like what you see, please "Like" us on Facebook either
here
or
here
. Please follow us on Twitter
here
.