Dear Santa, kids want the 'germ' to go away:
Dear Santa,
It's been awhile, a long while since many, perhaps most of us, have written to you.
Too many years, people merely run through post-Thanksgiving machinations 'til Christmas morn. The Festival of Lights and Mass, photo-ops with your mall stand-ins, and running about to make sure the kids (even the older ones) get shining bikes, the latest electronic gizmos or luxury boutiques like Moncler, whose D.C. shop was looted in the name of George Floyd and Black Lives Matter.
Santa, I'm sure that even though you are a denizen of the North Pole and your closest advisers are Mrs. Claus and the elves, you are up on what's been happening this year around the glove. That is, after all, your annual thing, checking the naughty and nice lists and making Christmas Eve visits in what appears to be hither and thither.
We're still keeping the faith though. --->READ MORE HERE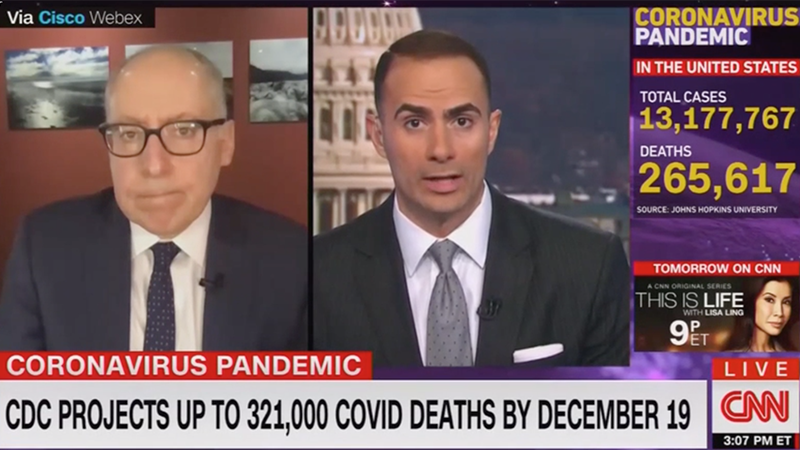 Watch: CNN Cancels Christmas - "We Just Can't Do It This Year":
Not content with metaphorically canceling Christmas in recent years in an attempt to be 'woke', CNN wants to literally cancel the holiday this year, declaring "we just can't do it" because of COVID.
CNN Newsroom host Boris Sanchez rolled out "medical analyst" Dr. Jonathan Reiner, setting up the segment by announcing that Reiner had last week called Thanksgiving "the mother of all super spreader events."
The Grinch then decreed that Americans shouldn't even be thinking about gathering or traveling for Christmas.
"People tend to travel, want to travel, want to be with family, but we just can't do it this year," Reiner declared. --->READ MORE HERE
Follow links below to related stories and resources:
Democrat Lockdowns Exempt Hollywood, Destroy Small Businesses
CDC panel announces who should be first to get COVID-19 vaccine
USA TODAY: Coronavirus Updates
WSJ: Coronavirus Live Updates
YAHOO NEWS: Coronavirus Live Updates
NEW YORK POST: Coronavirus Live Updates
If you like what you see, please "Like" us on Facebook either
here
or
here
. Please follow us on Twitter
here
.