**********************************
I thought that in light of all the VP Buzz out there that we at Right Speak would approach the VP selection a little differently than others.
Most sites are polling to see who people "believe" will be the eventual VP nominee. Intrade as of Saturday night (04-07-12) has the race this way:
CLICK CHART for LIVE UPDATES: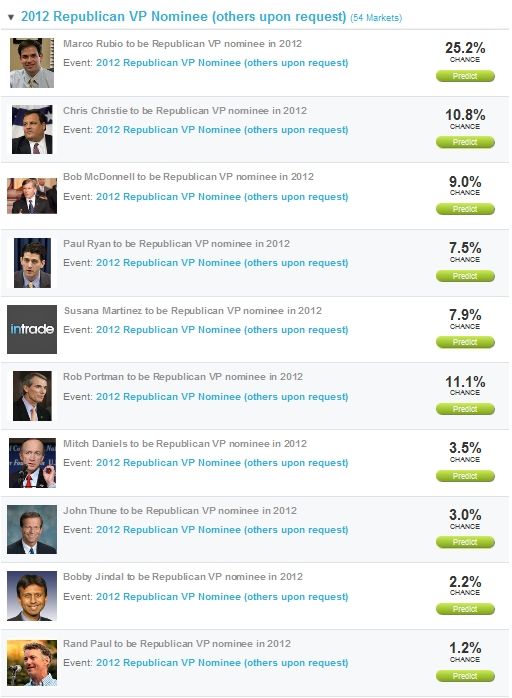 Now Intrade's choices are based on who investors "believe" will be the eventual GOP VP nominee.
This poll will be a little different. Our poll will foll to see of who you "want" to be the VP nominee. We all know that most times what you want isn't what you get.
What I've done is to take Intrade's choices and add a few of my own. Knowing that Mitt Romney will be the nominee, I'd personally like to see him pick Jim DeMint as his running mate and have given this poll it's first vote.
Now,
WHO DO YOU WANT?
I'm sure I've left some folks off the list. You can always add them in Someone else.
This Poll will be open for 1 week. I will Post the results in a separate post.
Please check us out on Facebook and If you like what you see, please "Like" us. You can find us
here.