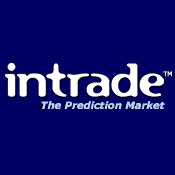 Here are the latest numbers from Intrade for the GOP Nomination. Romney has gained on Perry since the last time.
To view the Intrade specifics on any particular candidate, CLICK the photo below:
Intrade July 30, 2011
Intrade July 23, 2011
Intrade June 19, 2011
Please check us out on Facebook and If you like what you see, please "Like" us. You can find us
here.