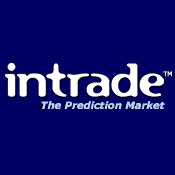 Last time I checked, the flavor of the month was ahead of Romney by almost 3 points. I would expect that Romney's numbers will continue to inch up over time. He has been at 28+ for quite some time now, while everyone else seems to fluctuate. Perry's numbers will continue to be erratic until he decides to get in or not. If he gets in, I would expect his numbers to settle below Romney.
To view the Intrade specifics on any particular candidate, CLICK the photo below:
Intrade July 23, 2011
Intrade June 19, 2011
Please check us out on Facebook and If you like what you see, please "Like" us. You can find us
here.