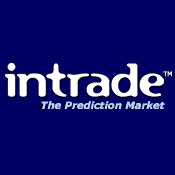 I thought it would be interesting to take a look at where the money is when it comes to the 2012 Vice Presidential Race. Of course we all know that whoever wins the nomination for President will make that final decision based on several issues including, Geography. Particular strength (s), Particular background. In most cases, the person chosen hopefully complements the ticket by helping to remedy any shortcomings of the nominee. Here is what Intrade says Today July 18, 2011. I've only included the TOP 10:
For an in depth look at each candidate and their chances, click
HERE
, and choose "2012 Republican VP Nominee".
Please check us out on Facebook and If you like what you see, please "Like" us. You can find us
here.