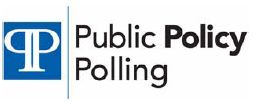 President Obama has increased his advantage over Sarah Palin since PPP last polled the

state late last November, leading her 48-43, up from 46-43. He has improved even more

against perhaps the strongest candidate nationally, Mitt Romney, now down only 44-43,

versus 47-41 last time. And he is at essentially the same place versus Newt Gingrich, tied

at 44% (45-44 deficit previously), and Mike Huckabee, down 49-43 (49-42).
Favorable/Unfavorable/Not sure:
Mike Huckabee 45/35/20
(+10)
Mitt Romney 32/44/24 (-12)
Newt Gingrich 31/50/18 (-19)
Sarah Palin 37/56/7 (-19)
Head-to-Head: (Obama/Candidate/Undecided)
Mike Huckabee 43/49/8 (+6)
Mitt Romney 43/44/13 (+1)
Newt Gingrich 44/44/11 ( - )
Sarah Palin 48/43/9 (-5)
PPP surveyed 612 Missouri voters from March 3rd to 6th. The survey's margin of error is

+/-4.0%. Other factors, such as refusal to be interviewed and weighting, may introduce

additional error that is more difficult to quantify.
To view the crosstabs click the PPP icon below: