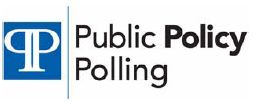 Dakota's John Thune, and 1% for Mitch Daniels. The race could not be any more up in

the air. Unlike in other states, Romney does not post a lead with moderates here, but he

does show his typical weakness with conservatives. Huckabee has insignificant leads

with both groups.





Monday's release

showed that Palin would be a point behind President Obama in the

general election, while the other three frontrunners would put the perennially red state out

of reach.
Favorable/Unfavorable/Not sure:
Mike Huckabee 62/18/20 (
+44
)
Sarah Palin 62/28/10 (+34)
Mitt Romney 51/23/27 (+28)
Newt Gingrich 50/24/25 (+26)
If the Republican candidates for President next year were Mitch Daniels, Newt Gingrich, Mike Huckabee, Sarah Palin, Ron Paul, Tim Pawlenty, Mitt Romney, and John Thune who would you vote for?
Mike Huckabee 21%
Sarah Palin 19%
Newt Gingrich 18%
Mitt Romney 15%
Ron Paul 8%
Tim Pawlenty 4%
Mitch Daniels 1%
John Thune 3%
Someone else/Undecided 12%
PPP surveyed 519 usual Nebraska Republican primary voters from January 26th to 27th.

The survey's margin of error is +/-4.3%. Other factors, such as refusal to be interviewed

and weighting, may introduce additional error that is more difficult to quantify.
To view the crosstabs click the PPP icon below: