Recently there has been some buzz that Mitt Romney may be trying to keep his distance from the Tea Party. One example is in
New Hampshire
where Romney supposedly failed to get back to a Tea Party activist who wanted to set up a meeting with him. It's funny because just Saturday, the Republican Party in New Hamphire elected a
Tea Party favorite
as it's new Chair while overwhelmingly giving
Romney a win
in their party's straw poll. So it seems that if the Tea Party is upset with Romney, they sure have a strange way of showing it.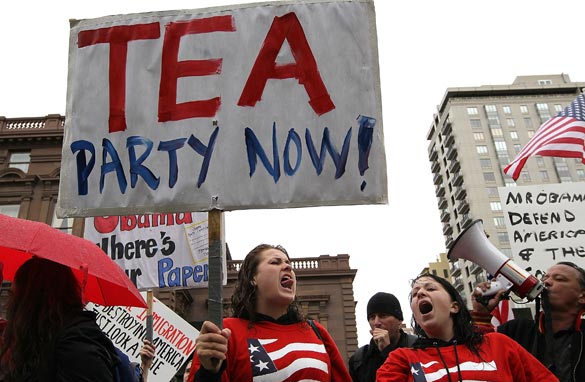 I personally don't think Romney is avoiding the Tea Party or it's members. I think he may be letting them know in his way, that they're not more important than any other Republicans or Republican groups.
Romney is not the only Republican that has not given the Tea Party the attention they may desire. Newly elected Senators
Marco Rubio, Ron Johnson, and Pat Toomey
have chosen not to join the newly formed Senate Tea Party caucus. I don't want to put words in their collective mouths, but maybe they believe they are Republicans first and any other affiliations come somewhere else down the line.
Bob Schlesinger of the U.S, News and World Report has a
different take
on Romney's actions or in-actions, depending on which way you look at it. He seems to suggest that it may be deliberate and part of a strategy. In his article, he makes 3 points as to why he believes this:
First, as mentioned, the rest of the field seems to be vying for Tea Party support. By standing apart, Romney stands a chance of having the party establishment coalesce behind him. And while the Tea Party may be ascendant in the GOP, and may wield outsized influence in the primaries, the movement has not always demonstrated an ability to coalesce around a single candidate....

Second by using the Tea Party as a foil Romney can combat one of his own biggest negatives: his reputation for being a political weather vane.....But by refusing to kowtow to the Tea Party Romney could build a counter-narrative.

Finally, Romney could be positioning the Tea Party for something of a Sister Souljah moment with an eye toward avoiding a Sharron Angle moment. ....By steering clear of the fringe, Romney could position himself as the kind of acceptable Republican able to take advantage of a faltering Obama.
The full Schlesinger article can be read
HERE.