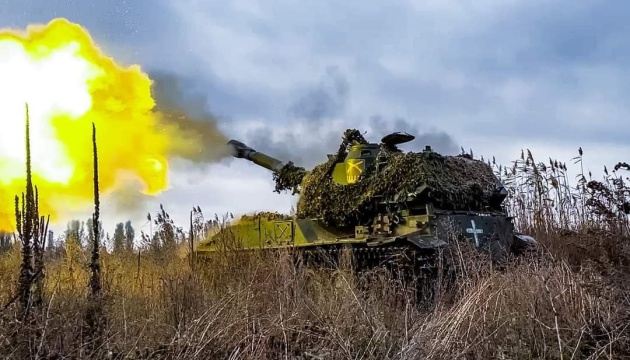 Russia's assaults in several areas foiled - General Staff:
Russian troops launched assault efforts in the Kupiansk, Bakhmut, Avdiivka, Marinka, and Shakhtarske directions but none succeeded.
That's according to the General Staff of the Armed Forces of Ukraine, Ukrinform reports.
A total of 43 combat clashes took place across the front lines on Wednesday.
Ukraine's forces continue their offensive operation toward Melitopol direction and assault efforts on the Bakhmut axis.
They are inflicting losses on enemy manpower and equipment, depleting Russian capabilities, but the overall situation in the east and south of Ukraine remains difficult.
Ukraine's Air Force launched 12 strikes targeting enemy positions, including nine against manpower clusters and three – on air defense systems.
The Ukrainian missile units hit five Russian radars, two control points, three air defense systems, and 11 artillery systems.
Russian invaders launched 59 air strikes, as well as 36 attacks involving multiple rocket launchers, targeting Ukrainian positions and populated areas. Several such attacks left a number of Ukrainian civilians injured and households destroyed or damaged.
In the Volyn and Polissia directions, the operational situation has not changed significantly as no signs of enemy offensive groupings being formed were observed.
Certain units of the Belarusian armed forces perform their routine tasks in the areas bordering Ukraine. --->READ MORE HERE
Russians attack near Klishchiivka, Andriivka and Avdiivka without success – General Staff report:
The Russian invaders tried to restore their lost positions near Klishchiivka and Andriivka in Donetsk Oblast, but were unsuccessful, with 68 combat clashes taking place at the frontline during the day.
Source: General Staff of the Armed Forces of Ukraine on Facebook, information as of 06:00 on 1 November
Details: On the Bakhmut front, the Russians unsuccessfully tried to restore their lost positions near Klishchiivka and Andriivka, where the defenders repelled five attacks of Russians. Russian forces also conducted unsuccessful assault operations in Pivdenne (Donetsk Oblast). At the same time, the Defence Forces of Ukraine are continuing assault operations south of Bakhmut, Donetsk Oblast, inflicting losses on Russia in manpower and equipment and consolidating their positions.
In the area of responsibility of the Tavriia Operational Strategic Group on the Avdiivka front, the Russians keep trying to surround Avdiivka. They are using aircraft to support their troops. Ukrainian soldiers are standing firm on the defensive and inflicting significant losses on the Russian forces. For example Russian offensive actions were unsuccessful in the areas of the settlements of Avdiivka, Keramik, Sieverne, Pervomaiske and Stepove (Donetsk Oblast), where the defenders repelled about 20 attacks.
On the Marinka front, Russians conducted unsuccessful assault operations in Marinka and Novomykhailivka (Donetsk Oblast). Here, Ukrainian soldiers repelled more than 20 Russian attacks.
On the Shakhtarsk front, Russia conducted unsuccessful assault operations near Prechystivka and Zolota Nyva (Donetsk Oblast). --->READ MORE HERE
Follow links below to
+++++relevant+++++
and related stories:
+++++Russia-Ukraine News LATEST UPDATES: (REUTERS) (AP) (NY POST) and (WSJ)+++++
+++++Tarnavskyi: Ukrainian soldiers firmly hold defense in Avdiivka section+++++
+++++Russian bases on Arabat Spit come under attack+++++
Ukrainian Air Force destroys 18 out of 20 Shahed drones used by Russians to attack critical infrastructure
Ukraine war update: 68 combat engagements on front lines in past 24 hours
Russians want to recapture Kupiansk, but have no strategic success – Ukraine's Ground Forces Commander
Air defence downs two Kh-59 air missiles in Odesa Oblast
Russian drone hits oil refinery, frontline attacks repelled - Ukraine military
Ukrainian forces kill 680 Russian soldiers and destroy 30 armoured combat vehicles over past 24 hours
Ukrainian air defenses intercept one missile, 18 Shahed drones overnight - Air Force
43 combat clashes, 59 Russian air strikes over past day
Satellite photos of Ukrainian strike on Donetsk rail station
War is entering new stage, Ukraine needs technology – Ukraine's Commander-in-Chief
Ukraine receives 40 French armored vehicles — report
Group of Republicans sets conditions for Biden to continue supporting Ukraine
Speaker Mike Johnson signals that Ukraine aid, coupled with border security, is next on GOP agenda
More than 260 civilians killed after stepping on mines, explosives - Ukraine
If you like what you see, please "Like" and/or Follow us on FACEBOOK
here,
GETTR
here
, and TWITTER
here
.