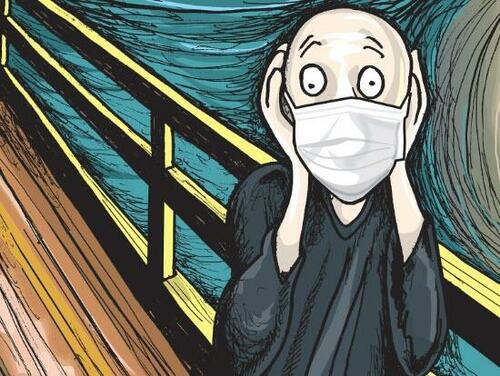 The COVID-19 "Crisis" Is Back... Until It Rebrands Into Something Else:
Is Covid-19 back for real this time? Is the "Eris" variant the real deal.
These kind of questions keep coming up again and again, and it's all by design.
"The goal is an endless war, not a successful war" Wikileaks founder Julian Assange once said of the long Afghanistan war.
That comment perfectly captures the cycle of Covid hysteria, too
In order to answer this question, it's important to reach an understandable framework for how we define Covid and reach a premise to build upon.
What is this thing we all call Covid or Covid-19?
First of all, it's important to shake out the pseudoscientific blather built up in our minds that we've accumulated from cable news, Government Health bureaucrats, and the legacy media. All of these forces have been horrifically incompetent and negligent over the course of the corona hysteria years, routinely insisting that you inject yourself with poison and ruin your lives to combat "the virus." These forces are much more dangerous to your health than a respiratory illness that they have so poorly defined. To understand what Covid truly is, we must first pledge to turn off the TV.
Here in reality, outside of the accepted ruling class framework, Covid is best understood as nothing more than a merger of what people commonly referred to prior to 2020 as the cold and flu. --->READ MORE HERE
Government Gave Millions To Top Reproductive Health Org To Promote COVID-19 Vaccines To Pregnant Women:
The premier professional membership organization for obstetricians and gynecologists accepted $11.8 million from the Department of Health and Human Services (HHS) to promote COVID-19 vaccines to pregnant women, despite the exclusion of pregnant women from clinical trials and regulatory data showing the vaccine had not been tested for safety during pregnancy.
To learn more about COVID-19 funding received by the American College of Obstetricians and Gynecologists (ACOG) during the pandemic and what prompted the organization's guidance on COVID-19 vaccines for pregnant women, Dr. James Thorp, a board-certified obstetrician-gynecologist and maternal-fetal medicine physician made a Freedom of Information Act (FOIA) request in 2022 to HHS.
"My request was simple: It sought only to obtain documents involving the three 'Cooperative Agreement' grants HHS/CDC made to ACOG during the pandemic, one of which was for $11.8 million, listed on a publicly accessible open data source for federal spending, USASPENDING.gov," Thorp told The Epoch Times.
Documents obtained by Dr. Thorp show ACOG, on Feb. 1, 2021, was awarded the first of three cooperative agreement grants by HHS and the CDC. The receipt of COVID-19 grant money was contingent upon ACOG yielding substantial control over projects funded by the CDC to the agency and ACOG's full compliance with CDC guidance on COVID-19 infection and control.
"This is a cooperative agreement, and CDC will have substantial programmatic involvement after the award is made. Substantial involvement is in addition to all post-award monitoring, technical assistance, and performance reviews undertaken in the normal course of stewardship of federal funds," the documents state. --->READ MORE HERE
Follow links below to relevant/related stories and resources:
25 American Vacation Destinations Emerging as COVID Hotspots
Why officials aren't calling this year's new COVID shots "boosters"
USA TODAY: Coronavirus Updates
WSJ: Coronavirus Live Updates
YAHOO NEWS: Coronavirus Live Updates
NEW YORK POST: Coronavirus The Latest
If you like what you see, please "Like" and/or Follow us on FACEBOOK
here,
GETTR
here
, and TWITTER
here
.