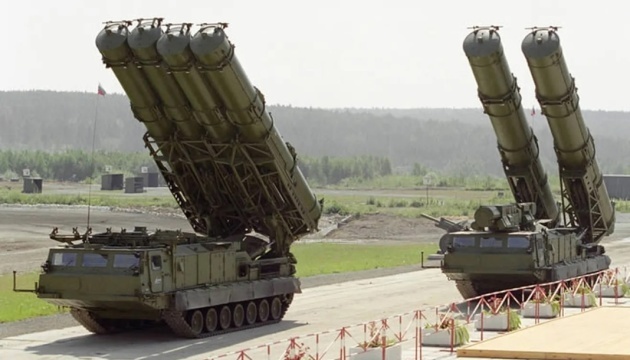 Russian air defenses unable to deal with Western-made cruise missiles - Air Force spox:
Russian air defense cannot cope with the Ukrainian strikes involving Western-made cruise missiles.
The spokesman for the Air Force, Yuriy Ihnat, commented on the issue on the air of the national telethon, Ukrinform reports.
"We've received weapons we'd been waiting for so much. These are cruise missiles. The enemy can't shoot down these missiles despite having great anti-aircraft defense there, which has 'no analogues'. Presumably, they do down some of them but, as we can see, our missiles penetrate their defenses, and Crimea, which is heavily armed with air defense systems, cannot cope with Western-made cruise missiles," he said.
According to him, that is why Ukraine expects more such missiles from the West – specifically German, French, and British ones. "And the American ATACMS are already ballistic missiles – they will help us significantly change the situation at the front. And with the arrival of Western-made warplanes, it will be a completely different story," Ihnat said.
Separately, the spokesman for the Air Force said Russia would continue launching Kalibr sea-based cruise missiles at Ukraine.
Kalibrs can fly quite far, more than 2,000 km, therefore the fact that Russia moves its warships farther from Crimea does not change the situation for Ukraine.
Ihnat said that Russian missile carriers must be destroyed, adding that this will eventually happen. --->READ MORE HERE
Overcoming setbacks, NATO-trained brigade breaches Surovikin line in Zaporizhzhia Oblast
Even months before it started, just the idea of Ukraine's large-scale counteroffensive in 2023 carried on its shoulders a historic weight.
Having held back waves of brutal Russian ground attacks over winter, this was Kyiv's chance to not only regain the initiative but to put the war on a decisive trajectory towards Ukrainian victory, breaking the Russian military, liberating vast areas of its territories, and threatening Russia's presence in Crimea.
The months of anticipation over spring only raised the stakes. While Ukrainian brigades trained abroad and Western tanks slowly trickled in, Russia was digging formidable lines of defensive structures in the south, visible to the world on satellite imagery.
When the time finally came to move forward, much of this weight of expectation lay on the shoulders of just one brigade. The 47th Mechanized Brigade, held up as a progressive model of the Ukrainian army of the future, was to lead the push south of Orikhiv, heading straight for the key cities of Tokmak and Melitopol.
Formed from scratch a year ago, the brigade often known by the name "Magura," was prepared with the counteroffensive in mind; its soldiers, trained in NATO countries and equipped with superior new Western equipment, were to be the spearhead of the advance here.
"They invited people (to the brigade) who knew why they want to be here, for what, for whom, which goals," said Oleksandr "Hollywood," a Kyiv native who once worked in filmmaking but now serves in the 47th; "not just in a military sense of following orders, but on the level of liberating our country."
For three and a half months, the world's eyes have been on the handful of villages and the fields surrounding them south of Orikhiv. Of all the areas where Ukrainian forces have advanced, this one is the most consequential, and the best defended. --->READ MORE HERE
Follow links below to
+++++relevant+++++
and related stories:
+++++Russia-Ukraine News LATEST UPDATES: (REUTERS) (AP) (NY POST) and (WSJ)+++++
+++++Ukraine's Air Force launched 76 strikes on enemy clusters last week+++++
+++++Ukrainian forces repel enemy attacks near Avdiivka, Marinka+++++
Defense forces destroy six Russian battalions, nearly 200 artillery systems in past week
Ukrainian defenders repel 8 Russian attacks – General Staff report
Nighttime Russian attack on south: Ukrainian defenders shoot down 19 Shahed drones and 11 Kalibr missiles, but there are strikes
Ukraine wins control over key Russian supply route on Bakhmut front
'Flee or face destruction' – Russian forces in Crimea scramble to relocate from bases to avoid Ukrainian strikes
'Half the factory is gone' - Explosions rock Russian military base in occupied Sorokyne, Luhansk Oblast – video
Russia's Black Sea Fleet commander among 34 killed in a missile strike in Crimea, Ukraine claims
Ukraine receives American M1 Abrams battle tanks months ahead of schedule
Russia's Invasion Triggers Baby Bust in Ukraine
Ukraine plans to cut off supply routes and surround Bakhmut before de-occupying the ruined city – spy chief
U.S. Blacklists 28 Entities From China, Russia and Other Countries, Citing National Security Risks
Explosions reported in Russian-occupied Crimea
US offers Poland rare loan of $2 billion to modernize its military
Blackout in St. Petersburg following Sunday night's blast - media
If you like what you see, please "Like" and/or Follow us on FACEBOOK
here,
GETTR
here
, and TWITTER
here
.