WSJ: Ukraine Intensifies Drone Attacks on Russia, Moscow Says:
An airport in the capital was closed and Russian naval vessels were attacked in the Black Sea
Ukrainian drones struck Moscow for a second time this week and forced the closure of a key airport, while unmanned boats attacked Russian merchant ships as well as naval vessels in the Black Sea, Russian authorities said Tuesday.
Vnukovo, one of Moscow's four main airports, was closed following the attack. A skyscraper that hosts private and government offices was also attacked, Moscow's mayor's office said.
Russia's Defense Ministry said unmanned Ukrainian naval drones were destroyed while trying to sink Russian civilian transport ships en route to the Bosporus in the southwestern Black Sea, as well as Russian warships patrolling waters off the coast of Crimea.
It wasn't possible to independently confirm the Defense Ministry's statement, which has issued inaccurate claims in the past.
Ukraine and Russia have traded accusations that their merchant ships have been used to smuggle weapons as the Black Sea takes on a growing significance to each country's war effort.
The Ukrainian government hasn't directly commented on the claims. Following the earlier drone attack on Sunday that targeted the same Moscow high-rise, Ukraine's President Volodymyr Zelensky said the war was returning to Russia, a process he deemed "inevitable, natural and absolutely fair."
The unmanned aerial vehicles managed to reach the Moskva-City business district despite stringent aerial defenses and antidrone measures that were put in place late last year. These defenses were fortified after the Kremlin itself, the official seat of President Vladimir Putin, was targeted on May 3.
Two drones were destroyed and one crashed inside Moscow after being targeted by electronic jamming equipment, Russia's Ministry of Defense said Tuesday. No one was hurt in the attack, it added. --->READ MORE HERE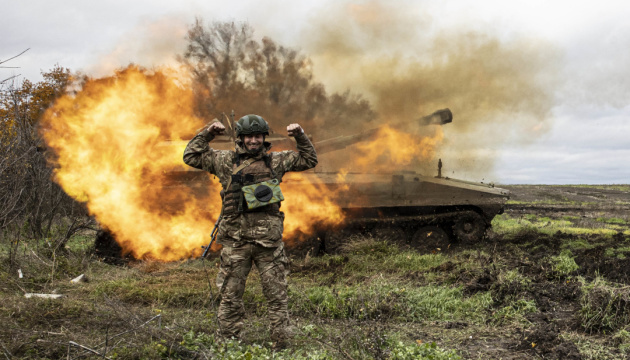 Defense Forces destroy five enemy ammunition depots in Tavria direction:
In Tavria direction, the Ukrainian Defense Forces destroyed 22 units of Russian invaders' equipment and five ammunition depots over the last day.
Commander of the Tavria operational and strategic grouping of troops, General Oleksandr Tarnavskyi said this on Telegram, Ukrinform reports.
"The work of the Defense Forces continues in the Tavria direction," Tarnavskyi said.
According to him, the artillery units of the Defense Forces completed 425 firing missions over the past day.
Tarnavskyi noted that 22 units of enemy military equipment were destroyed.
In particular, three armored personnel carriers, seven units of artillery systems and mortars, one MLRS, one unit of air defense systems, one UAV, and nine units of automotive and special equipment.
Five ammunition depots of the Russian invaders were also destroyed.
As Ukrinform reported, over the past day, more than 40 combat clashes between the Ukrainian Defense Forces and Russian invaders took place in different directions. --->READ MORE HERE
Follow links below to
+++++relevant+++++
and related stories:
+++++Russia-Ukraine News LATEST UPDATES: (REUTERS) (AP) (NY POST) and (WSJ)+++++
+++++Ukrainian defenders prevent Russian sabotage and reconnaissance group from entering Chernihiv Oblast+++++
+++++Ukrainian forces destroying enemy potential – defense official+++++
Explosions occurred at enemy positions between Makiivka, Yasynuvata
Russians claim attack by Ukrainian drone boats on Black Sea Fleet vessels
Ukrainian forces repel Russian attacks on Svatove front all day – Deputy Defence Minister
Ukraine war latest: More explosions reported in occupied Crimea
The Storm Shadow Missiles Giving Ukraine Long-Range Capabilities
Explosion reported near occupied Sevastopol
Military intelligence: Crimean residents conduct 'systematic' sabotage against Russian bases
Ukrainian drone operator: See mom, those videogames were useful after all
Slovakia hands over two Zuzana 2 howitzers to Ukraine
Zelensky Declares it Is 'Absolutely Fair' For Ukraine to Attack Targets Inside Russia
Elon Musk Shut Down Starlink Access for Ukrainian Drone Attack Plot Against Russian Navy: Report
In Ukraine, Amputations Already Evoke Scale of World War I
Ukrainians whose home was destroyed by war can now apply for compensation online
Monitoring group: Wagner using military storage facilities in Belarus
If you like what you see, please "Like" and/or Follow us on FACEBOOK
here,
GETTR
here
, and TWITTER
here
.