Ukraine reports 'particularly fruitful' few days in counteroffensive:
A Ukrainian counteroffensive against Russian forces has been "particularly fruitful" in the past few days and Ukraine's troops are fulfilling their main tasks, a senior security official said on Tuesday.
The comments by Oleksiy Danilov, secretary of Ukraine's National Security and Defence Council, were Kyiv's latest positive assessment of the month-old counterattack although Moscow has not acknowledged Ukraine's gains.
Ukraine's Deputy Defence Minister, Hanna Maliar, also reported gains around the shattered city of Bakhmut despite fierce Russian resistance. Russian forces had captured it in May after 10 months of battles.
Russia, which began its full-scale invasion in February 2022, still holds swathes of territory in eastern and southern Ukraine but Ukrainian President Volodymyr Zelenskiy said on Monday his troops had made progress after a "difficult" week.
"At this stage of active hostilities, Ukraine's Defense Forces are fulfilling the number one task – the maximum destruction of manpower, equipment, fuel depots, military vehicles, command posts, artillery and air defense forces of the Russian army," Danilov, head of Ukraine's National Security and Defence Council, wrote on Twitter.
"The last few days have been particularly fruitful," he said, without providing any details from the battlefield.
Valeriy Shershen, spokesperson for the Tavria, or southern, military command, said Ukrainian troops had advanced by up to 2 km (1.2 miles) in the Berdiansk direction of southern Ukraine, despite fierce Russian resistance. --->READ MORE HERE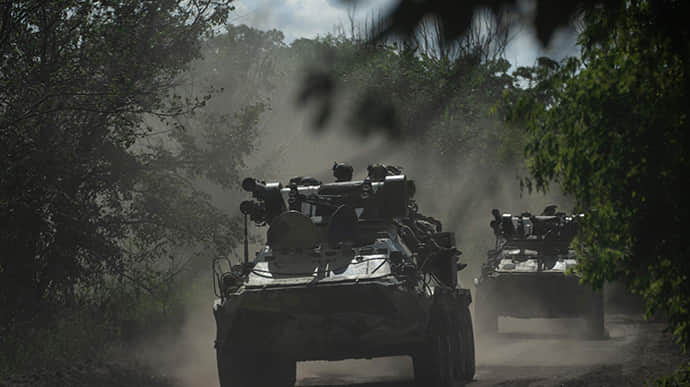 Ukraine's forces advance on 2 fronts, destroy 18 Russian artillery units – General Staff:
Ukraine's defence forces are conducting an offensive operations on the Melitopol and Berdiansk fronts; they are entrenched at the gained positions. Over the day, 4 July, they hit one cluster of Russian manpower, weapons and military equipment, three ammunition storage points, 18 artillery systems in firing positions, three anti-aircraft defence systems and two electronic warfare stations.
Source: General Staff of the Armed Forces of Ukraine, information as of 18:00 on 4 July
Quote: "The defence forces of Ukraine continue to conduct an offensive operation on the Melitopol and Berdiansk fronts, are entrenched at the reached boundaries, inflict fire damage from artillery on the identified enemy targets, and carry out counter-battery combat measures."
Details: Ukrainian aircraft carried out 13 airstrikes on areas where Russian military personnel were concentrated, three on anti-aircraft defence systems, and one more on Russian command post.
At the same time, Russian forces continue to focus their main efforts on the Lyman, Bakhmut, Avdiivka and Marinka fronts, and heavy fighting continues. There were 30 combat clashes over the last day.
The operational situation on the Volyn and Polissia fronts remains much the same as before. There were no signs of the formation of offensive groups.
On the Sivershchyna and Slobozhanshchyna fronts, Russian forces made unsuccessful attempts to penetrate the subversion and reconnaissance group through the state border of Ukraine, suffered losses and retreated. To cover the retreat, the subversion and reconnaissance group used rocket and tubed artillery. Over the past 24 hours, Russians deployed mortar and artillery to attack more than 15 settlements, including Karpovychi, Mykhalchyna Sloboda (Chernihiv Oblast); Seredyna-Buda, Vovkivka (Sumy Oblast) and Odnorobivka, Udy, Vovchansk, Okhrimivka, Zemlianka (Kharkiv Oblast). --->READ MORE HERE
Follow links below to
+++++relevant+++++
and related stories:
+++++Russia-Ukraine News LATEST UPDATES: (REUTERS) (AP) (NY POST) and (WSJ)+++++
+++++Air Force: 26 drones shot down over Ukraine over past day+++++
+++++Military: Ukrainian forces advance 2 km in Berdiansk direction+++++
Russian military says it fended off Ukrainian drone attack on Moscow
Investigative Stories from Ukraine: Journalists identify Russian brigade allegedly involved in Kakhovka dam explosion
Russians die under mysterious circumstances in Mariupol – City Council
Russians put items similar to explosive charges on two of six ZNPP units
Ukrainians under occupation face deportation, loss of property after Putin's new order
Halushka, Shevchuk: A call to put Russian assets toward Ukraine's reconstruction
NATO chief Jens Stoltenberg gets one-year extension as members debate potential successor
Twelve children, 26 others hurt in Russian missile strike in Ukraine
Dutch and Luxembourg PMs urge Serbia and Kosovo to defuse tensions under shadow of war in Ukraine
Pope envoy working on 'mechanism' to return children to Ukraine
Neutral Switzerland and Austria will join European air defense project
Give Ukraine quick path to join NATO, Lithuania leader tells allies
Kremlin open to talks over potential prisoner swap involving detained US reporter Evan Gershkovich
Russia rejects bank compromise as Black Sea grain expiry looms
If you like what you see, please "Like" and/or Follow us on FACEBOOK
here,
GETTR
here
, and TWITTER
here
.