Biden administration cancels drag shows on military bases after Republican criticism:
President Joe Biden's administration has stopped U.S. military bases from hosting drag shows after criticism from some Republicans, amid a broader push in conservative-led states targeting LGBTQ+ celebrations.
Hosting drag shows is "inconsistent with regulations regarding the use of (Defense Department) resources," said Pentagon spokeswoman Sabrina Singh in a statement Thursday.
At least one show was canceled as a result. Organizers of an event at Nellis Air Force Base in Nevada canceled a drag show timed to Pride Month, which began Thursday, according to a Facebook post quoted by Fox News.
In her statement, Singh did not directly address LGBTQ+ rights but said the Defense Department was "proud to serve alongside any and every young American who takes the oath that puts their life on the line in defense of our country."
Rep. Matt Gaetz, R-Fla., who sharply criticized top Pentagon leaders earlier this year and questioned them about drag shows, tweeted that the cancellation was a "HUGE VICTORY!"
"Drag shows should not be taking place on military installations with taxpayer dollars PERIOD!" he added.--->READ MORE HERE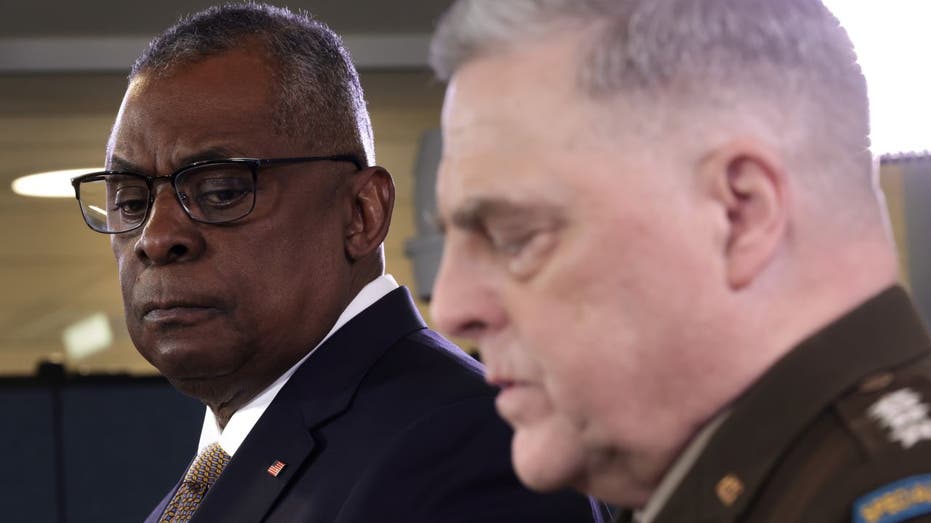 Defense secretary's new guidance on drag shows on military bases has immediate impact: Report
Multiple military installations are canceling planned Pride Month drag shows after a Defense Department ban.
Drag shows on Nellis Air Force Base in Nevada and Ramstein Air Base in Germany that had previously been approved by installation officials have now been scrapped as a result of a reported directive from Defense Secretary Lloyd Austin, according to a report from Military.com.
The cancellations come after the shows on military bases drew intense scrutiny in recent weeks, sparking an effort by GOP senators to pass legislation that would ban the shows installations.
A bill pushed by Sen. Steve Daines, R-Mont., included language that "appropriated or otherwise made available for the Department of Defense and no facilities owned or operated by Department of Defense may be used to host, advertise, or otherwise support an adult cabaret performance."
"Adult cabaret" was defined in the bill as a performance featuring topless or go-go dances, exotic dances, or any shows feature male or female impersonations that appeal to prurient interest.
"Our military's mission is clear: to provide the military forces needed to deter and win wars and to protect the security of our country and our allies," Daines said of the legislation. "Allowing the DOD to become a branch of far-left helping to promote their radical gender ideology by hosting and promoting drag queen performances is a threat to our national security and gross misuse of taxpayer funds." --->READ MORE HERE
If you like what you see, please "Like" and/or Follow us on FACEBOOK

here,

GETTR

here

, and TWITTER

here

.