Biden's Migrant Mobile App to Release 30K Foreign Nationals Monthly into U.S.
President Joe Biden's Department of Homeland Security (DHS) will release as many as 30,000 foreign nationals into the United States monthly via a migrant mobile app whereby users schedule appointments at the southern border, a new report details.
The mobile app, known as Customs and Border Protection (CBP) One, entices foreign nationals living in Mexico who are pregnant, mentally ill, elderly, disabled, homeless, or crime victims to schedule an appointment with agents at the border in the hopes of being released into American communities.
Foreign nationals in Mexico can submit their application for an appointment through the CBP One app up to 14 days in advance and then show up at eight Ports of Entry in Arizona, Texas, and California for their appointment.
Every month, the Biden administration has been releasing about 20,000 foreign nationals into the U.S. interior via the mobile app. According to CBS News, officials will soon increase the monthly inflow to about 30,000 releases into the U.S. interior:
The administration is planning to increase the number of migrants allowed to enter the U.S. daily under the CBP One process from 740 to 1,000, senior U.S. officials told CBS News, requesting anonymity to discuss internal plans. The number of participating bridges will also increase, the officials said. [Emphasis added]
--->READ MORE HERE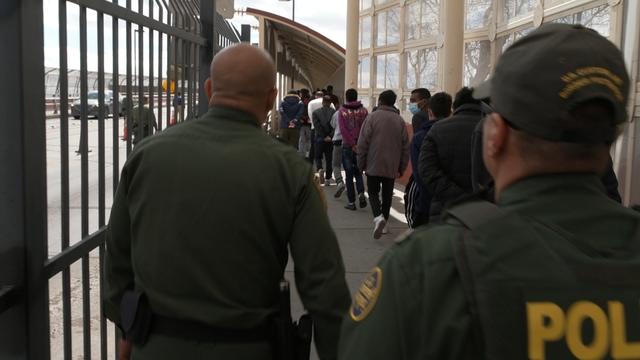 CBP One app becomes main portal to U.S. asylum system under Biden border strategy:
To reach the U.S. border, Carla Delgado, 23, walked across Panama's treacherous Darién jungle with her husband and four small children. In Mexico, they traveled on top of a freight train known as "the beast," a perilous ride that has caused some migrants to lose limbs or fall to their death.
By any measure, the day the family entered the U.S. was much easier. They lined up alongside several dozen migrants early on a Monday morning at the main bridge connecting El Paso with Ciudad Juárez, Mexico. After a few hours of processing, health screenings and background checks, the family was released from U.S. custody with a notice to appear in immigration court, where they will have a chance to apply for asylum.
"I'm happy because thanks to God, we reached our goal, which was to get here," Delgado said after leaving the Customs and Border Protection facility at the Paso del Norte bridge. "We are safer," said her husband, Zahyr Aguirre, 27, who had entered the U.S. days earlier. He noted the family's plan was to fly to Chicago.
The family benefited from a program the Biden administration started earlier this year to discourage unlawful border crossings by allowing migrants to use a phone app to set up an appointment at international bridges, where U.S. officials determine whether they should be allowed into the country to request asylum.
The Biden administration is planning to make the process powered by the app, called CBP One, the main portal to the U.S. asylum system at the southern border, sending the message that those who fail to wait for an appointment and attempt to enter the country without permission will be swiftly turned back. --->READ MORE HERE
If you like what you see, please "Like" and/or Follow us on FACEBOOK
here,
GETTR
here
, and TWITTER
here
.