WSJ: Ukraine's Winter Could Turn Against Russian Troops
With Western-supplied uniforms and 'trench candles,' Ukrainian soldiers seek a cold-weather advantage
In the battle to keep warm, Ukrainian infantryman Kyrylo Molchanov has turned to "trench candles"—empty food cans packed with cardboard—to heat his front-line dugout.
With Russia and Ukraine fighting through the winter, keeping Ukrainian soldiers warm could become a competitive advantage for Kyiv.
For armies, winter weather affects everything from maneuverability to battery power. But the cold and wet can have a crushing effect on soldiers' morale and ability to fight, while creating potential medical problems.
The U.S. and its allies have sent hundreds of thousands of pieces of winter clothing. Ukraine has supplemented those supplies from elsewhere, and the various items in Lt. Molchanov's uniform come from several countries.
Some Russian soldiers seem to be arriving for battle less well kitted out, hindered in part by a hasty mobilization drive in the fall.
Ukraine's armed forces are adapting, cutting wood from local forests, sourcing smaller barracks and using the trench candles, which volunteers and family send packed tight with rolls of cardboard.
"If you light it an hour or two before going to bed, it heats up more than you would expect," Lt. Molchanov said from Ukraine's southern front line.
Ukraine's winter has so far been mild, but temperatures can frequently drop to below minus 4 degrees Fahrenheit.
Mild or not, winter affects fighting in many ways. As leaves fall, it is harder to conceal equipment. Fog, rain and snow make identifying targets more difficult. Cold degrades battery life faster, affecting drones and radios. Mud makes movement problematic, but when the ground freezes, digging trenches and minefields is harder. Soldiers burn more calories in the cold, so need more food.
But one of the biggest problems is that wet and cold weather can affect morale and performance. --->READ MORE HERE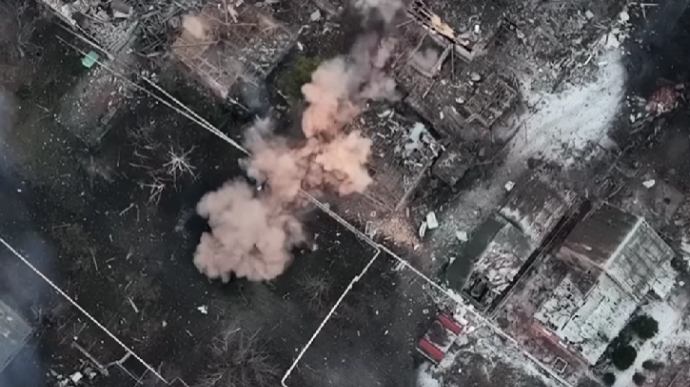 Gunners of Ukrainian Armed Forces destroy headquarters and warehouse of Wagner Group mercenaries:
In Soledar, Donetsk Oblast, Ukrainian gunners have revealed and destroyed the headquarters and a warehouse of the Wagner Group mercenaries.
Source: Video of the 45th Separate Artillery Brigade
Quote: "The headquarters and field warehouse of the Wagner mercenaries in Soledar were destroyed."
Details: The date when this effective operation of the artillery took place is not specified, no other details are given. The video also shows how the mercenaries' ammunition is probably exploding.
Reference: The 45th Separate Artillery Brigade is a unit of the Rocket Forces and Artillery of the Armed Forces of Ukraine. --->READ MORE HERE
Follow links below to
+++++relevant+++++
and related stories:
+++++Russia-Ukraine News LATEST UPDATES: (REUTERS) (AP) (NY POST) and (WSJ)+++++
++++General Staff: Ukraine repels Russian attacks near 16 settlements in Donetsk, Luhansk, Zaporizhzhia oblasts++++++
+++++Factbox: Ukraine's military supplies: What ground vehicles are Kyiv's allies sending?+++++
U.S. to send hundreds of armored vehicles, rockets to Ukraine
What Attacks on Russian Air Bases Tell Us About Moscow's Vulnerabilities
Special Operations Forces masterfully thin out Russian forces in Soledar
Pentagon sees no signs of new Russian offensive — RFE/RL
Ukrainian border guards kill Russian reconnaissance group and repel assault near Bakhmut
NL Times: Netherlands to consider supplying Ukraine with F-16 aircraft
Pentagon confirms supplying Ukraine from stockpiles in Israel, South Korea
Russian oligarchs' riches will soon become Ukraine's reparations, US prosecutor reveals
Why Germany Is Reluctant to Send Tanks to Ukraine
Treasury to designate Wagner transnational criminal group
Ukrainians wrap up landmine clearance exercises in Cambodia
Zelenskiy says Ukraine will still have to fight for supply of modern tanks
Russian oligarchs' riches will soon become Ukraine's reparations, US prosecutor reveals
German Defense Minister: No decision yet on Leopard tanks for Ukraine
Portugal to provide Ukraine with 14 armoured personnel carriers, ammunition, and medical equipment
Germany to start moving Patriot systems to Poland next week – Spiegel
If you like what you see, please "Like" and/or Follow us on FACEBOOK
here,
GETTR
here
, and TWITTER
here
.