Ukraine Claims Heavy Russian Losses in South:
Ukraine's military said it was inflicting heavy losses on Russian forces in the south of the country in an area that military analysts suggest could be the next target for a Ukrainian offensive.
The General Staff of the Ukrainian Armed Forces said that the losses had forced Russian troops to set up a field hospital at a hotel complex in the city of Berdyansk.
Ukrainian officials posted footage of what they said was a Ukrainian strike on a Russian headquarters in Tokmak, a Russian-occupied transport hub.
And the Ukrainian mayor of Melitopol, a Russian-occupied city, said a local police commander who was collaborating with the occupation administration was injured when the car he was traveling in exploded. Russian state news agency TASS reported on the car explosion but didn't identify the occupants of the vehicle. Partisans have carried out several attacks in the area that have targeted senior collaborators.
After recapturing swaths of territory around the northeastern city of Kharkiv and the southern city of Kherson, Ukrainian forces are seeking to maintain momentum. In recent weeks, they have carried out strikes on Russian military facilities and transport infrastructure in the south of the country, in what analysts say could be a preparatory phase for a thrust south toward the Black Sea. A Ukrainian advance there would cut critical lines of supply between Russia and Crimea, the Ukrainian peninsula that Russia has occupied since 2014.
Russia has begun taking defensive measures in Crimea, most recently starting engineering work on defensive positions along a highway that spans the top of the peninsula where it meets mainland Ukraine. --->READ MORE HERE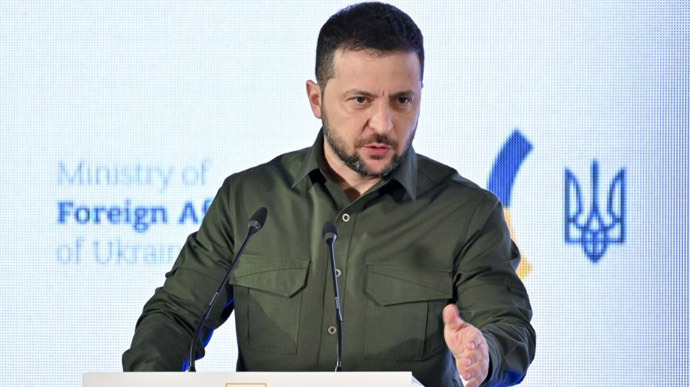 Zelenskyy to Russians: Terror never goes unanswered:
President Volodymyr Zelenskyy warned the citizens of Russia that the terror of the occupiers will not remain unanswered.
Source: Zelenskyy's address at the end of the 303rd day of the war
Quote: "And [one thing – ed.] more. Citizens of Russia must clearly understand that terror never goes unanswered."
Details: The President addressed the Russians in Russian.
Previously: On December 23, Zelenskyy held a meeting of the Staff of the Supreme Commander-in-Chief, where he listened to the commanders of the Armed Forces of Ukraine.
According to him, the defenders see the prospects at the front, and are preparing for various options of actions of the terrorist state; they see the intentions of the Russian Federation and "will respond". --->READ MORE HERE
Follow links below to
+++++relevant+++++
and related stories:
+++++Russia-Ukraine News LATEST UPDATES: (REUTERS) (AP) (NY POST) and (WSJ)+++++