Donald Trump is the Santa Claus of politics.
Ol' St. Don glided down the glass escalator in Trump Tower seven years ago, much the way Ol' St. Nick slides down a chimney. Weary from world travels and splotched with soot from so many fireplaces, he brought cheer and joy with his rosy cheeks and buoyant nature.
Dressed in bold colors like a Christmas ornament and carrying a sack of hidden presents on his back, how could anyone not love him? Especially a child!
Because the satchel is closed with presents just barely peeking out, children dream. They imagine anything and everything might be in that sack for them.
In dreaming, children lose the inhibitions of hard reality.
Forget a train set. There might be an actual honest-to-God, great big diesel locomotive in that dirty sack! A live pony! A castle with a prince!
After all, Ol' St. Nick arrived on the back of a sleigh drawn by eight reindeer and landed on the roof.
Right? He just slid down a glass escalator with a gorgeous woman on his arm into instant political stardom.
In that sack was a wall — a wall that Mexico paid for! A job for every child that wanted one — regardless of race or gender or creed or whatever!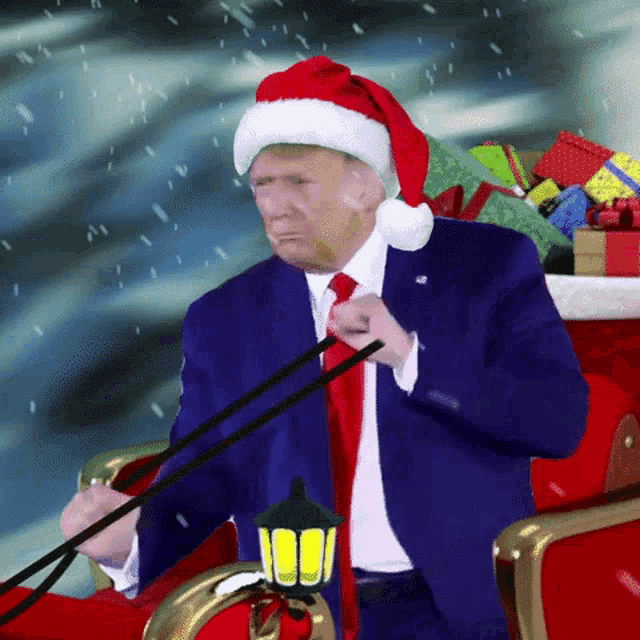 Lumps of coal for evil tyrants in China, Iran and even Russia!
Factories in America would open again. And the next time you visited Japan, you would see people driving around in American cars. When was the last time you saw an American car on the streets of Tokyo?
And dishwashers. American dishwashers would work again, with plenty of water coursing through strong jets to get all your plates nice and clean.
Not to mention all the wives in America who would be so impressed with their husbands when they looked at their 401(k) statements.
Truly Christmas morning in America again! --->Read the Rest from Charles Hurt HERE
If you like what you see, please "Like" and/or Follow us on FACEBOOK
here,
GETTR
here
, and TWITTER
here
.