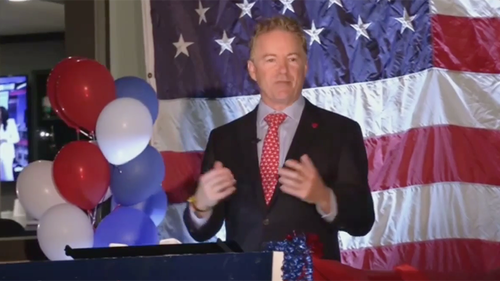 Watch: Victorious Rand Paul Vows To "Subpoena Every Last Document Of Dr. Fauci":
After winning a decisive victory to secure his third term as Kentucky Senator, Rand Paul promised to end the "COVID cover up," by forcing Anthony Fauci into court.
Paul told supporters that he intends to focus on uncovering the evidence for COVID emerging from a lab, and whether it was manipulated with funding from Fauci's NIH.
"Thanks for coming out to Dr. Fauci's retirement party!" Paul joked.

"I promise you this: the COVID cover-up will end," the Senator urged, adding "I will not only hold Dr. Fauci accountable, we will finally investigate why your tax dollars were sent to fund dangerous research in Wuhan."
In a broader message during the speech Paul focused on freedom, declaring that "Liberty should bring people together because each and every citizen is left alone to enjoy their own personal freedoms."
"Liberty is that great harmonizer that allows us to live together despite our differences," the Senator added.
"We don't come together to rejoice in the dissipation of power. We come together to reaffirm our support for the 10th Amendment — that powers not explicitly granted to the federal government are retained by the states and the people," Paul further proclaimed. --->WATCH/READ MORE HERE
'Horrible': 6 Covid symptoms showing up a month after getting boosted - 'still strong':
Covid vaccination is no silver bullet but it greatly reduces the severity of symptoms. It's important to understand this distinction because it tempers your expectation of what to expect from vaccination. Yes, Covid is far more likely to result in a milder illness post-vaccination but it's still possible to experience symptoms.
There are growing reports of symptomatic infection following the booster shot, which is being offered this autumn to stem the tide of expected respiratory infections this winter, including COVID-19 and flu.
Twitter is littered with reports of symptomatic Covid post-booster and a pattern of symptoms is starting to emerge.
Twitter user ChristiMarie449 recently wrote: "I'm on Day 5 since testing positive for Covid and this is my first time having it and the symptoms are still strong... cough, chills, runny nose, aches, horrible headache and so on... I had my booster and flu shot weeks ago and feel like I've been hit by a truck."
Likewise, user atesgoral took to the platform to journal his Covid symptoms post-booster, which over the course of a week included fever, runny nose and rash breakout. --->READ MORE HERE
Follow links below to relevant/related stories and resources:
Yes, scammers are targeting people in need of free COVID-19 test kits
Ohio man attacks Asian college student, blames him for COVID
USA TODAY: Coronavirus Updates
WSJ: Coronavirus Live Updates
YAHOO NEWS: Coronavirus Live Updates
NEW YORK POST: Coronavirus The Latest
If you like what you see, please "Like" and/or Follow us on FACEBOOK
here,
GETTR
here
, and TWITTER
here
.