WSJ: Ukraine Launches Assault to Oust Russia From Key Black Sea Peninsula:
The occupied Kinburn Spit lies at a maritime choke point and is a coveted prize for Kyiv
Ukraine's military said it launched an operation to push Russian forces from a strategic peninsula on the country's Black Sea coast, as Kyiv looks to open up its besieged ports and build on significant gains through the country's south.
Ukrainian forces have begun an assault on the Kinburn Spit, a strip of land jutting into the sea south of Mykolaiv that has been occupied for months by Russian forces cutting off access to the port city.
"For now, this military operation is in silent mode," said a spokeswoman for Ukraine's Southern Operational Command on Ukrainian television late Monday. She didn't say when the operation had started but said stormy weather provided an advantage for Ukrainian forces in the area.
The larger Kinburn Peninsula is a strategic prize for Ukraine. The sliver of land lies at a key maritime choke point leading to the port cities of Mykolaiv and Kherson, at the mouth of two large rivers, the Southern Buh and the Dnipro.
Russian forces have used the spit to launch missile, drone and artillery strikes that have hammered the city of Mykolaiv, which remains in Ukrainian control but has suffered under heavy Russian fire throughout the war.
Reclaiming the peninsula could also provide relief to hundreds of thousands of people living in the Mykolaiv region. The near-constant Russian shelling has damaged schools, hospitals, grain silos, port infrastructure and many civilian homes.
The governor of the Mykolaiv region, Vitaliy Kim, said in a social-media post on Tuesday that the capture of three more settlements on the peninsula would put the entire region under Ukrainian control. --->READ MORE HERE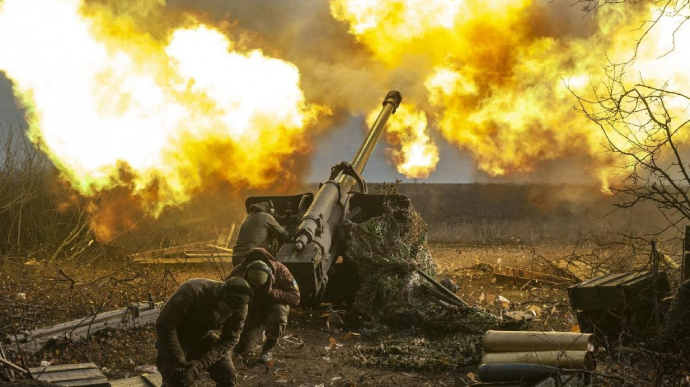 Ukrainian Ministry of Defence reveals "hottest spot" on front:
Donetsk Oblast is the most brutal area on the frontline at the moment: the Russian forces have somewhat decreased their assault activity due to bad weather, but have not reduced the intensity of attacks.
Source: Hanna Maliar, Deputy Minister of Defence, during the 24/7 national joint newscast
Quote: "After Kherson was liberated, it became quite a demoralising factor for the Russian soldiers and the Russian society, so they are looking for a place of application of force, so that there is at least tactical news to raise their spirits.
They are currently concentrating their efforts in the east [of Ukraine – ed.], and first of all, the hottest spot is Donetsk Oblast.
Only bad weather prevents them from carrying out attacks with the same intensity as they did last week. In the second half of last week, the Ukrainian Armed Forces repelled hundreds of Russian attacks a day on the Donetsk front.
Now, due to the weather the number [of assault attempts – ed.] has slightly decreased, at the same time the number of attacks has not decreased: there are almost 400 attacks per day [according to the latest data – ed.] along the entire eastern front." --->READ MORE HERE
Follow links below to
+++++relevant+++++
and related stories:
+++++Russia-Ukraine News LATEST UPDATES: (REUTERS) (AP) (NY POST) and (WSJ)+++++
+++++Russia Will Lose Crimea and Suffer for Decades After Putin: US Senator Risch Interview+++++
+++++Ukrainian Defenders defuse mine corridor left by occupiers in Kharkiv Oblast+++++
Ukraine's Air Force explains how it manages to shoot down Russian Kh-101 missiles
Russians intensify terror in Melitopol after defeats on front
Russia Steps Up Artillery Attacks in Ukraine's East
Ukraine says Russians pounding frontline positions with artillery
UK defense ministry: Svatove in Luhansk Oblast becomes vulnerable flank of Russian troops
Europe's largest nuclear power plant rocked by blasts in Ukraine: 'Playing with fire'
Ukraine Says It Will Investigate Videos of Dead Russian Soldiers
Ukraine to civilians: Leave liberated areas before winter
Cold and dark: Kyiv readies for 'worst winter of our lives'
100M euros pledged to Moldova, hit hard by war in Ukraine
Spain to deploy police in Ukraine to assist war crime investigations
NATO Parliamentary Assembly recognizes Russia as 'terrorist state,' calls for special tribunal creation
Italy to extend Ukraine arms supply law for 2023 - minister
Poland plans to station Patriot missile systems at Ukrainian border
Russia's 'General Armageddon' under pressure to deliver on battlefield after retreat
Zelensky's address on Dignity and Freedom Day: Ukrainians may be left without electricity, but they will never lack freedom
If you like what you see, please "Like" and/or Follow us on FACEBOOK
here,
GETTR
here
, and TWITTER
here
.