WSJ: Russian Retreat in Ukraine Exposes Collaborators—and the Finger-Pointing Begins:
Ukraine—When Russian armored columns drove into this rural community of 20,000 people on the first day of the invasion, Mayor Valeriy Prykhodko tried to count the tanks, artillery pieces and fighting vehicles that rolled past his windows.
After the first few hundred, he gave up. "It was too big for counting," Mr. Prykhodko said. "The horror."
Located some 35 miles from the Russian border, Shevchenkove fell without a fight the afternoon of Feb. 24. In the six months of Russian rule that followed, many locals came to believe that Moscow, with its awe-inspiring military might, would stay here forever.
Unwilling to work under Russian authority, Mr. Prykhodko tried for a time to resist orders, then fled to Ukrainian-controlled territories. But the municipality's second-in-command, Executive Secretary Nadiya Sheluh, stayed on the job even once the Russians raised their red-blue-white flag over the building.
Mr. Prykhodko, who is now back in office, recalls being surprised and outraged. But he also acknowledged that many in Shevchenkove think his former colleague did the right thing by helping keep basic services functioning through the occupation. "Our people are split about her," he said. "Old ladies here say they are thankful to her, that she helped them and fed them."
Ukrainian forces came back to Shevchenkove in September, as part of their rapid offensive in the eastern Kharkiv region. Now, like other towns and villages in recently liberated parts of Ukraine, Shevchenkove is torn from within by tensions between those who escaped or opposed the Russians—and those who are viewed as having accommodated the enemy.
The delicate task of sorting out one from the other falls on investigators from the Security Service of Ukraine, or SBU, and the National Police, who are collecting evidence in recently retaken territories and in large parts of the country that remain under Moscow's rule. --->READ MORE HERE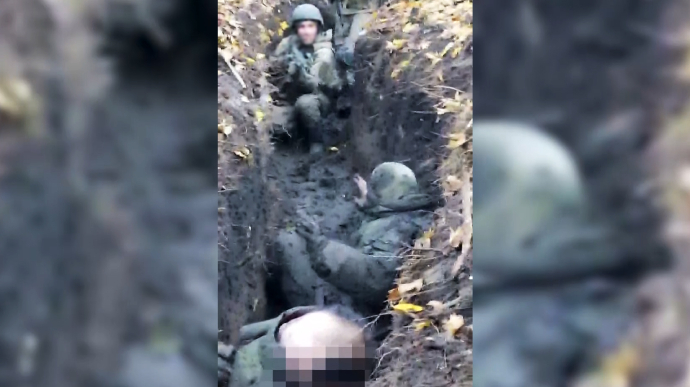 Ukraine's border guards repel fierce assault in Donetsk Oblast and replenish prisoner exchange fund:
Russian occupation forces are continuing attempts to advance on the Donetsk front, but units of Ukraine's defence forces and of the State Border Guard Service of Ukraine are deterring the Russian forces.
Source: press service for the State Border Guard Service of Ukraine
Details: The State Border Guard Service reported that Russian occupation forces launched an offensive on a southern front in Donetsk Oblast in the early hours on Sunday, 30 October.
First, the Russians deployed mortars and rocket and tubed artillery to carry out an artillery attack, which lasted nearly two hours.
Up to two Russian infantry platoons then stormed the positions of Ukrainian forces under the cover of armored vehicles.
Ukrainian border guards skillfully struck an enemy armored vehicle, killing its crew, while the Russian infantrymen scattered. Russian troops were forced to retreat under Ukrainian fire, leaving dead and wounded soldiers behind. --->READ MORE HERE
Follow links below to
+++++relevant+++++
and related stories:
+++++Russia-Ukraine News LATEST UPDATES: (REUTERS) (AP) (NY POST) and (WSJ)+++++
+++++Ukraine downs 44 Russian missiles launched at Ukraine on Oct. 31+++++
+++++Explosion at airfield in Russia: two helicopters completely destroyed+++++
Zelenskiy: Ukrainian forces repel offensive in Donetsk region
Debris of Russian missile downed by Ukraine lands in Moldovan village
Latvian Atlas Dynamics supplies Ukrainian military with futuristic drones, plans to start production in Ukraine
Kyiv in the dark after 3rd week of Russian airstrikes
US, EU, NATO condemn Russia for reneging on Ukraine grain agreement
Russia Launches Barrage of Strikes Across Ukraine, Targeting Infrastructure
Heavy Russian barrage on Ukraine, no water for much of Kyiv
Ukraine Looks for Opportunity Amid Titanium Supply-Chain Crisis
Tens of thousands of Czechs show their support for Ukraine
Russia Threatens to Stop Vessels, as Grain Ships Continue to Call on Ukraine
U.N., Turkey, Ukraine press ahead with Black Sea grain deal despite Russian pullout
Zelensky praises several brigades for 'bravery and resilience'
Russian forces attack 2 civilian tugboats: at least two dead, one person wounded and one missing
If you like what you see, please "Like" and/or Follow us on FACEBOOK
here,
GETTR
here
, and TWITTER
here
.