WSJ: How Ukraine Can Make the Most of the Winter Lull in the War With Russia:
Kyiv shouldn't halt all operations as cold nears. It should rebuild, with NATO help, for spring offensives
Winter is coming, which will make it difficult for Ukraine to continue its advances against Russia. The next several months—known by historians as rasputitsa, or disagreeable travel—have been the great enemy of Eurasian armies for centuries. Soldiers call this period "General Mud," shorthand for the harsh environmental conditions that brought Russia's French and German invaders to their knees in 1812 and 1943, respectively.
But the harsh winter should be seen as a time to make preparations for the spring, not to pause all operations. Ukraine should continue its long-range attacks against vulnerable Russia ammunition depots, command centers and supply lines. With help from the North Atlantic Treaty Organization, Kyiv should also begin a deliberate effort to reconstitute its military strength in time for the 2023 campaign season.
The various preparations that Ukraine must make are obvious: Harden defensive positions along the current frontlines, integrate replacement troops into units, and issue winter clothing and equipment. This is the leitmotif of any military after a long campaign, but it would be a missed opportunity to stop there. Ukraine needs a more comprehensive approach, which should accelerate the delivery of the still-vast military stockpiles and training capacity of NATO countries to regenerate its army as its Russian adversary struggles to resupply its troops and incorporate its mobilized reserves.
Under this new strategy, allies shouldn't merely continue to resupply crucial equipment and ammunition, Himars rockets and air-defense assets. They should also conduct operational planning symposia with the Ukrainian military, consisting of workshops on lessons learned in 2022 and operational planning for 2023. NATO can also redouble its efforts to train key leaders and units outside Ukraine to build a second layer of personnel expertise on the operations and repair of Western equipment—and, in anticipation of political decisions, flight training on advanced Western aircraft as well as ground training on more-capable air-defense systems and combat vehicles. --->READ MORE HERE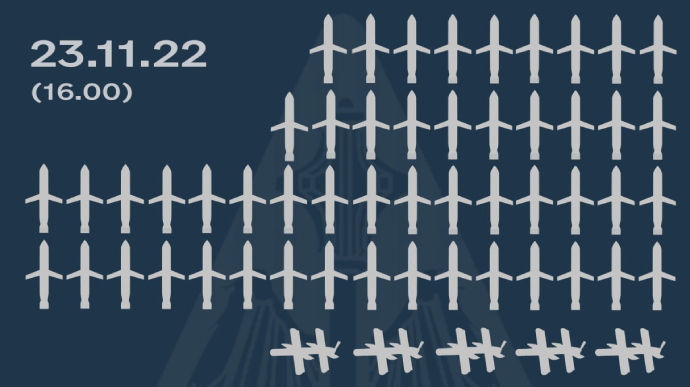 Russia launches 70 missiles on Ukraine on 23 November, Ukraine's air defence shots down 51:
Ukraine's anti-aircraft defence systems have shot down 51 out of 70 missiles and five kamikaze drones that Russia launched on Ukraine on 23 November.
Source: Air Force of the Armed Forces of Ukraine on Telegram
Quote: "On 23 November, the terrorist state once again carried out a massive missile attack on critical infrastructure facilities in Ukraine using strategic aircraft and vessels of the Black Sea Fleet.
10 Tu-95MS missile-carrying jets launched missiles from the Volgodonsk district of Rostov Oblast [Russia] and the Caspian Sea, as well as from two small missile-carrying boats from the Black Sea."
Details: The Air Force reported that Russia has launched around 70 Kh-101/Kh-555 and Kalibr cruise missiles over Ukraine.
Ukraine's anti-aircraft defence systems and forces destroyed 51 Russian missiles.
Ukraine's defence forces also destroyed five Russian Lancet UAVs in the south of Ukraine. --->READ MORE HERE
Follow links below to
+++++relevant+++++
and related stories:
+++++Russia-Ukraine News LATEST UPDATES: (REUTERS) (AP) (NY POST) and (WSJ)+++++
+++++31 missiles were launched at Kyiv, 21 were shot down, several critical infrastructure facilities hit+++++
+++++Ukrainians are 'unbreakable', Zelenskiy says after Russian air strikes+++++
Zaluzhnyi: Out of impotence, Russians are fighting against hospitals, civilians and babies
Ukraine says it shot down 51 of 67 Russian cruise missiles on Weds
Air Force says it downed 51 out of 70 Russian missiles, 5 kamikaze drones on Nov. 23
Associated Press' internal messages show what led to retracted missile story that got reporter fired
Ukrainian newborn killed in rocket attack on maternity hospital
CIA telling disgruntled Russians 'we're open for business,' top spook says
Ukraine says 'dubious' Russians found in raid on Kyiv monastery
Russian Missile Strikes Knock Out Power in Ukrainian Cities
Europe's cities to donate generators for Ukraine as winter looms
Most Ukrainians left without power after new Russian strikes
Some Russian commanders encouraged sexual violence, says lawyer advising Kyiv
US sending Ukraine $400 million in ammunition, generators
Senators urge Pentagon to reconsider Gray Eagle drones for Ukraine
Chechens fighting for Ukraine see chance to 'free' their homeland
Breaking: European Parliament labels Russia 'state sponsor of terrorism'
If you like what you see, please "Like" and/or Follow us on FACEBOOK
here,
GETTR
here
, and TWITTER
here
.