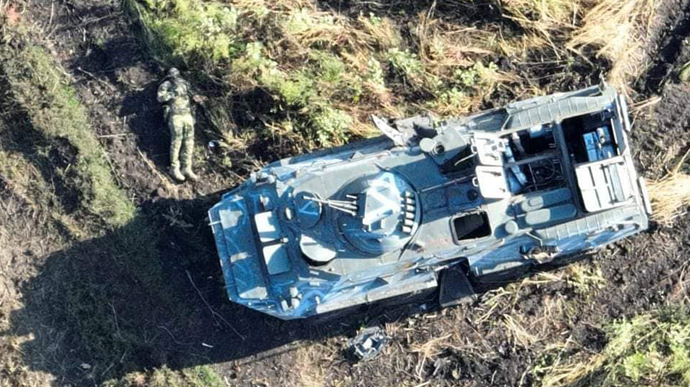 Ukrainian troops strike 26 clusters of Russian servicemen and 4 ammunition storage points– General Staff of Ukraine:
On 28 October, Ukrainian forces struck 26 areas where Russian military personnel, weapons, and equipment were concentrated, as well as 4 ammunition storage points of the Russian invaders.
Source: Evening summary provided by the General Staff of the Armed Forces of Ukraine, information as of 18:00 on 28 October
Quote: "Defence forces' aviation made 24 strikes in the course of today. It was confirmed that 20 areas of concentration of weapons and military equipment and 4 positions of the enemy's anti-aircraft missile systems were hit.
Units of Rocket Forces and Artillery hit the command post as well as 6 areas of concentration of manpower, weapons and military equipment, 4 ammunition warehouses and other important military objects of the occupiers."
Details: According to updated information, it was confirmed that Russian military personnel and equipment were hit in the temporarily occupied territories of Zaporizhzhia Oblast.
Artillery units of Ukraine's defence forces struck an ammunition storage point, up to five trucks with ammunition and three D-30 guns in the settlement of Novovodiane. --->READ MORE HERE
Ukrainian forces largely in control of key road in the east, says Kyiv:
Ukrainian troops are largely in control of a key road that links two Russian-occupied districts in the east of the country, pro-Kyiv officials said on Friday.
After taking swathes of territory in a lighting offensive, Ukrainian forces are now slowly pushing their way east into the Luhansk region and aim to seize the Russian-occupied towns of Svatove and Kreminna, which lies 45 km (28 miles) south of Svatove. The towns are the primary settlements in districts of the same names.
"The road from Svatove to Kreminna is practically under the control of the armed forces of Ukraine. Our soldiers are advancing daily," Serhiy Gaidai, governor of Luhansk region, told national television.
A Russian-backed separatist official on Wednesday reported heavy fighting in the Kreminna and Svatove districts, which have been at the frontline since Ukrainian forces routed Russian troops from neighbouring Kharkiv region in September. --->READ MORE HERE
Follow links below to
+++++relevant+++++
and related stories:
+++++Russia-Ukraine News LATEST UPDATES: (REUTERS) (AP) (NY POST) and (WSJ)+++++
+++++Illia Ponomarenko: Ukraine has proved that hard choices pay off+++++
+++++US accelerates plan to send upgraded nuclear weapons to Europe+++++
Ukrainian National Guard defeats Russian subversion and reconnaissance group and takes recent conscript captive
Ukrainians in Russia fear mobilization: 'If conscripted, I will shoot Russians and surrender'
Russia threatens to shoot down Western satellites for helping Ukraine
US sending Ukraine another $275M in weapons, satellite comms
Close Putin ally says 23 soldiers died in Ukrainian shelling attack
Putin 'worried' about South Korea sending weapons to Ukraine
Russia offers to stop attacking electric grid in exchange for Ukrainian territory
Russians claim to be evacuating Kherson, taking monuments, famous leader's bones in anticipation of battle
Russia to Suffer Worst Slowdown of Any Major Economy
Takeaways from investigation of Russian general in Ukraine
Finland, Sweden promise to join NATO together in united front to Turkey
Ukraine war latest: Russia says mobilization is over, 80,000 additional troops already in Ukraine
Belarus handed more than 65,000 tonnes of ammunition over to Russia in 7 months
Russia could start conscripting women into Ukraine war
Finland Willing To Host NATO Nuclear Weapons On Border With Russia
If you like what you see, please "Like" and/or Follow us on FACEBOOK
here,
GETTR
here
, and TWITTER
here
.