Ukrainian Troops Fight to Take Full Control of Lyman, as Russians Attempt to Withdraw:
Fighting continued around the eastern Ukrainian town of Lyman Saturday night, despite Russian claims to have withdrawn from the city.
Artillery and multiple-launch rocket systems thundered into the night, and two pairs of fighter jets could be seen launching flares as they provided close air support.
Russia had kept several thousand troops in the city, and the continuing violence suggested that some—if not most—of these soldiers may have remained trapped. Roads to Lyman are lined with burned-out hulks of Russian tanks and armored vehicles, with bodies of Russian soldiers lying on the sides.
Little remains of nearby villages, with hardly any civilians left. Ukrainian forces, too, have been taking significant casualties.
Ukraine has enveloped the Lyman area from the north and the south. Ukrainian troops that bypassed the city are pressing further east, toward the nearby Luhansk region, confronting reinforcements dispatched by Russia.
The Russian defense ministry had written on social media Saturday afternoon that its forces were withdrawing from Lyman.
But Ukraine's deputy defense minister Hanna Maliar wrote on social media Saturday afternoon, after the Russian ministry of defense said Russia has withdrawn from Lyman, that combat in the city goes on, cautioning against premature announcements. --->READ MORE HERE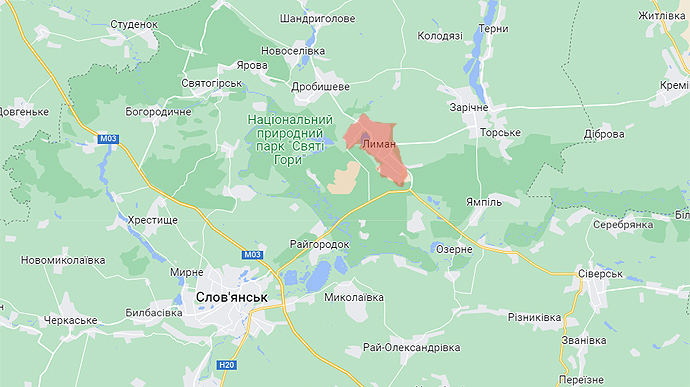 Approximately 5,000 occupiers encircled in Lyman:
As of the morning of 1 October, approximately 5,000 Russian soldiers are encircled in the city of Lyman in Donetsk Oblast.
Source: Serhii Haidai, Head of Luhansk Oblast Military Administration, on the FreeDom channel broadcast
Quote: "Regarding Lyman: Occupiers have asked their leadership for a possibility to retreat, and they have been refused to. At the moment, they have three options: to try to break through; to surrender; to die all together. Approximately 5,000 of them are there, we do not have the exact number yet."
Details: The Head of Luhansk Oblast Military Administration has pointed out that 5,000 is an enormous unit to be encircled. According to him, such a thing has never happened before.
Haidai has added that all supply routes or the opportunity of a retreat from Lyman have been cut out already.
Background: --->READ MORE HERE
Follow links below to
+++++relevant+++++
and related stories:
+++++Russia-Ukraine News LATEST UPDATES: (REUTERS) (AP) (NY POST) and (WSJ)+++++
+++++Armed Forces of Ukraine take Lyman – Eastern grouping of Ukrainian forces+++++
+++++Another "gesture of goodwill": Russian army announces withdrawal from Lyman+++++
Video from liberated Lyman: Russians are fleeing
5 settlements liberated near Lyman, Donetsk Oblast
Russian men fleeing mobilization could bring down Putin — but destabilize Eastern Europe
EU condemns Russian annexation, will never accept "illegal" referendums
A Rare Look at Ukraine's Himars on the Front Lines
As he seizes Ukrainian lands, Putin is silent on war failings
Army major, wife charged in plot to give medical records to Russia
Satellite Images Show Traffic Jam at Russian Borders After Putin's Draft Order
Ukraine applies for NATO membership, rules out Putin talks
Putin illegally annexes Ukraine land; Kyiv seeks NATO entry
Reaction to Putin proclaiming annexation of Ukrainian lands
Japan PM condemns Russian annexation of parts of Ukraine
EU demands clampdown on issuing visas to Russian citizens
Ukraine confirms it signed NATO membership bid on Friday
EU edges towards more sanctions on Russia
Life under occupation: 'I was forced to vote in sham referendum at gunpoint'
If you like what you see, please "Like" and/or Follow us on FACEBOOK
here,
GETTR
here
, and TWITTER
here
.