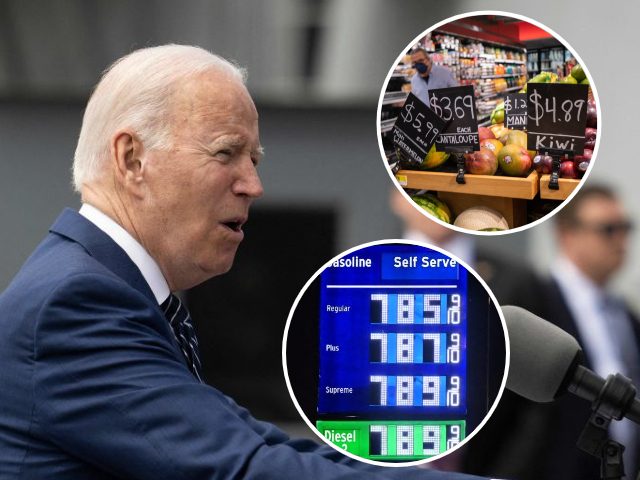 Poll: 71% of Workers Are Poorer Under Biden's Inflation, up from February's 58%:
Seventy-one percent of employees are poorer under the weight of President Joe Biden's inflation, up from 58 percent in February, a Bank of America-sponsored survey shows.
The poll, revealed by CNN on Tuesday, sampled individuals in July who have 401(k) plans. Half of those sampled said they had taken measures to "cope" with Biden's soaring prices in the last six months. Sixty-two percent said they are "stressed" about their personal finances despite being employees.
From year to date, consumer prices soared 8.3 percent in August, the Bureau of Labor Statistics revealed in September. In June, inflation reached a 40-year-high at 9.1 percent, just above August's numbers. The price of food at home jumped 0.7 percent compared with the previous month. Over the past 12 months, grocery prices have gone up 13.5 percent.
Biden's inflation, fueled by massive spending and arbitrarily placed constraints on the economy during the pandemic, is not just impacting low-income families. The poll found only 44 percent of employees believe they are financially well off under Biden's leadership, down from 57 percent in February. --->READ MORE HERE
Survey: Nearly 7-in-10 Americans Searching for Extra Work Due to Surging Inflation:
A majority of Americans say they are being forced to search for extra work as inflation increases the cost of living.
According to a recent survey by Bluecrew, a workforce service platform, 69 percent of Americans say they are actively looking for extra work hours, while 68 percent say they are reevaluating their current work situation.
Furthermore, 72 percent of Americans say inflation has impacted how they view their job, and 57 percent say they sought new or additional roles in the past year as the cost of living has ballooned since 2021 under the Biden administration.
Eighty-five percent of Americans said skyrocketing prices are affecting their spending and buying habits.
"Rapid inflation is forcing people to look at not only how they're spending their money, but also how they're earning their money," Matt Laurinas, chief customer officer at Bluecrew, told CNBC.
During the pandemic, fewer individuals were seeking work, but high inflation is driving a rebound in the labor force participation rates, according to the Wall Street Journal. --->READ MORE HERE
If you like what you see, please "Like" and/or Follow us on FACEBOOK
here,
GETTR
here
, and TWITTER
here
.