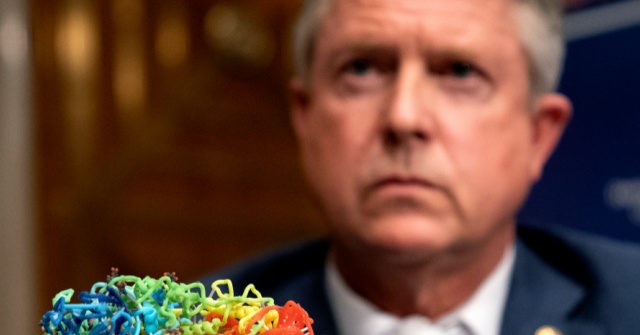 GOP Sen. Marshall: Fauci Has Funded Gain-of-Function Research in China, Which Is Like 'Doing Nuclear Research with Iran and North Korea'
On Wednesday's broadcast of Newsmax TV's "Rob Schmitt Tonight," Sen. Roger Marshall (R-KS) argued that "viral gain-of-function research is basically a weapon of mass destruction," how we handle it "would be the equivalent of doing nuclear research with Iran and North Korea" and "since 2012, Dr. Fauci has been funding viral gain-of-function research in China."
Marshall stated, "I think that we showed America — we shared with America that, since 2012, Dr. Fauci has been funding viral gain-of-function research in China. And despite the moratoriums that even he was involved with, he continued to fund that, and that viral gain-of-function studies led to this COVID-19 virus, which has killed over a million Americans."
He continued, "So, we had three expert witnesses, and I think they all agreed with that, that this viral gain-of-function research is basically a weapon of mass destruction, that taking a virus, that, in the hands of the wrong people could kill millions of Americans, that could impact agriculture in so many ways as well." --->READ MORE HERE
Exclusive — Sen. Rand Paul: 'Hearing on Gain-of-Function Research' Will Examine Government Funding of 'Superviruses':
Sen. Rand Paul (R-KY) said on Wednesday's edition of the Breitbart News Daily podcast with host Alex Marlow that the same day's Senate hearing on the federal government's funding of gain-of-function research on viruses would be the first of its kind since the COVID-19 outbreak.
Paul previewed a hearing held by a Senate subcommittee on Wednesday described by C-SPAN as an examination of "federal investment into the gain of function research of viruses and diseases."
Gain-of-function research, Paul said, involves manipulation of viruses to change their virulence and lethality.
"This will be the first hearing on gain-of-function research," Paul stated. "This is the research that was going on in the lab where they take a virus that has known mortality, like one of the coronaviruses that has somewhere between 15 and 30 percent mortality, then they mix it with an s-protein from an unknown virus from a bat cave about 800 miles away, and they scratch their heads and they say, 'Wow, I wonder if we mix it with these new viruses, if we can make it more infectious in humans.'"
He said gain-of-function research has involved the infection of "humanized mice" that "have human lung cells" with genetically modified viruses. Researchers discovered that they could "create viruses," including "superviruses," that are "more infectious than ones found in nature and still very deadly." --->READ MORE HERE
Follow links below to relevant/related stories and resources:
4 Takeaways From Senate Panel's Hearing on Gain-of-Function Research, COVID-19
Watch: Fauci Complains That Americans Will Not "Adhere" To Authorities
USA TODAY: Coronavirus Updates
WSJ: Coronavirus Live Updates
YAHOO NEWS: Coronavirus Live Updates
NEW YORK POST: Coronavirus The Latest
If you like what you see, please "Like" and/or Follow us on FACEBOOK
here,
GETTR
here
, and TWITTER
here
.