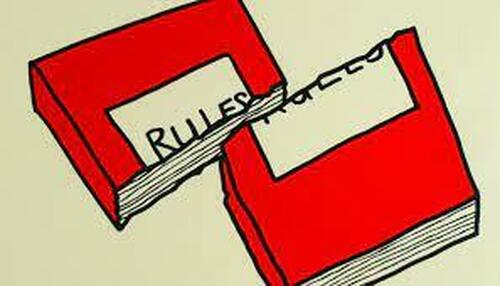 In the era of peak woke we are supposed to accept any radical departure from long-held custom and tradition as the new normal.
Perhaps.
But if so, is the improved new code of behavior at least reciprocal? Will the radical Left really wish to live by its own novel normality when it loses power?
Have leftists ever read Thucydides on the stasis at Corcyra and his warning that zealots who destroy laws, customs, and traditions for short-term gain, soon rue the day they began making such changes when, in vain, they seek refuge in the very sanctuaries of behavior that they have destroyed?
Or will they just plead that their own rules do not apply to themselves given their innate moral superiority? Will they employ the John Kerry defense that one must bomb the upper atmosphere with private-jet carbon emissions in order to do the important work of flying around the globe to stop carbon emissions?
The Supreme Court
How about the new protocols regarding the Supreme Court?
Should conservatives mass at the home of Justice Sonia Sotomayor, decrying her radical nihilist abortionist ideology? Is that an understandable cri de coeur? Would such intimidation in the future moderate her extremism? Is that now an acceptable strategy?
Should Senate Minority Leader Mitch McConnell (R-Ky.) now lead a throng of screaming, right-wing protestors to the very doors of the Supreme Court? Should he egg them on by calling out by name Justices Ketanji Brown Jackson and Sotomayor, warning that they have sown the "wind" and will soon reap the "whirlwind," as they will have no idea what "hit" them?
Is that moral courage? Would the New York Times and NPR nod approval to such "grassroots" anguish? Will anyone define what the incendiary "hit them" means?
When the Republicans gain the presidency and Congress, should they pack the court to 15 justices, on the cue of current progressive efforts?
Is the new norm that right-wing goons should dog Justice Jackson while eating at restaurants, throng her—and then be contextualized and excused by conservative cabinet members, media, and politicians? Is that our new normal reaction to rulings with which we disagree?
Should the next president trash the rulings of liberal justices when abroad before his foreign hosts? Should the conservative world keep mum when a crazy right-winger shows up fully armed near the homes of left-wing Supreme Court justices?
Should the Left one day achieve a 5-4 majority, would major conservative politicians then claim that their rulings are "illegitimate" and seek to find ways to nullify them?
Should conservative clerks leak controversial drafts of left-wing opinions to the media in hopes of mobilizing preemptive opposition to and strategies against subsequent progressive rulings?
Are the Left's new Supreme Court protocols the new normal that the Right, when in power, should duplicate?
The Congress
If the Republicans enjoy a Senate majority in 2023, should they follow the left-wing cue of Barack Obama—to end the "Jim-Crow-era" and "racist" filibuster, and thereby end "obstructionist" ideologues who prefer "gridlock"?
Should right-wingers designate 550 sanctuary jurisdictions in which overreaching federal environmental law simply does not fully apply? Are there to be cities and counties where federal gun registration is de facto dropped—on the principle of a higher allegiance to the Constitution?
When Republicans take over the House in 2023, should they immediately start impeachment proceedings against Joe Biden, for destroying the border and ignoring his oath to faithfully execute immigration laws?
Will they also appoint a special prosecutor to investigate the "Big Guy" to find how much of son Hunter Biden's cash he received and whether he fully reported such income to the IRS—all to impeach Biden a second time as a private citizen once he leaves office? Is that the Left's congressional legacy?
Read the rest from Victor Davis Hanson
HERE
If you like what you see, please "Like" and/or Follow us on FACEBOOK
here,
GETTR
here
, and TWITTER
here
.