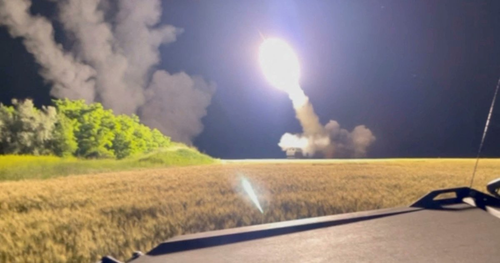 US Signals Ukraine It Can Use HIMARS Against Russian Targets In Crimea:
The State Department on Sunday implied that Ukrainian forces are allowed to use US-provided High Mobility Artillery Rocket System (HIMARS) against Russian targets in Crimea, which Russia has controlled since 2014.
When the US first announced it was sending HIMARS to Ukraine, Biden administration officials said they received "assurances" from Ukrainian officials that the rockets won't be used to target Russian territory.
When asked if the ban on Ukraine using the HIMARS to target Russian territory applies to Crimea, a State Department spokesperson told Antiwar.com, "Crimea is Ukraine."
"The United States does not and will never recognize Russia's purported annexation of Crimea. We will continue to stand up against Russia's unprovoked and unjustified war against the people of Ukraine," the spokesperson said.
On Saturday, a Ukrainian intelligence official said that Ukrainian forces should start attacking Russian facilities in Crimea and suggested US-provided HIMARS could be used for such strikes.
Former Russian President Dmitry Medvedev, who currently serves as the deputy chair of Russia's security council, warned Sunday that if Ukraine launched attacks on Crimea, it would mean "doomsday" for Ukrainian leadership. --->READ MORE HERE
Russian lawmakers blame losses on experimental Ukrainian super-soldiers:
Russia on Monday outrageously claimed that its massive army has failed to deliver Ukraine to President Vladimir Putin because it is fighting against experimental super-soldiers, turned into "cruel killing machines" by US studies.
Two Russian lawmakers told reporters this week that the Kremlin is investigating the blood of Ukrainian prisoners of war, and has found "evidence" of experimentation, Russian outlet Kommersant reported.
Russian Senator Konstantin Kosachev told the outlet that the blood of Ukrainian prisoners contained traces of pathogens he claimed were "atypical" for Ukraine.
Kosachev claimed this was evidence of "experiments" being conducted on Ukrainian servicemen.
IrIrina Yarovaya, deputy chair of the State Duma, took the claims further, and said the supposed experiments were focused on the creation of more vicious soldiers.
"We see that the cruelty and atrocities with which the military personnel of Ukraine behave, the crimes that they commit against the civilian population, those monstrous crimes that they commit against prisoners of war, confirm that all this is a single system of control and creation of the most cruel killing machines," she said. --->READ MORE HERE
Follow links below to
+++++relevant+++++
and related stories:
+++++Russia-Ukraine News LATEST UPDATES: (REUTERS) (AP) (NY POST) and (WSJ)+++++
+++++Russian Su-35 Shot Down by Ukraine as $85m Aircraft Goes Up in Flames—Video+++++
+++++Britain says Russia struggles to sustain effective offensive combat+++++
EU moves closer to imposing more sanctions on Russia
Shattered Ukrainian dad holds hand of son killed in Russian airstrike
Ukrainian drone targets nuclear plant but caused no damage, Russia says
Ukraine Moves to Weed Out Entrenched Russian Influence in Government
Shelter in Ukraine's capital takes in animals haunted by war
Construction of the Bayraktar plant: the government will send an agreement with Turkey to BP
Six French Caesar self-propelled guns are already on their way to Ukraine - the head of the Ministry of Foreign Affairs
Meet Ukraine's mobile repair unit: Tanks fixed while you wait
Recep Tayyip Erdoğan snubs Vladimir Putin ahead of Tehran talks
White House says Russia laying groundwork to annex Ukraine territory
Iran is ready to export military equipment and weapons, Young Journalists Club reports
Russian Threat to U.S. Elections Persists Even Amid War in Ukraine, Officials Say
Life and Death in Ukraine
Amid Russia shelling, Ukraine aims to strengthen government
If you like what you see, please "Like" and/or Follow us on FACEBOOK
here,
GETTR
here
, and TWITTER
here
.