The COVID-19 pandemic is over, for real
If a 79-year-old can beat the coronavirus in just a few days, we're are probably OK
Imagine if a 79-year-old man who shuffles about and has a slew of health issues (call them comorbidities if you want) caught COVID-19.
Back in July 2020, that would have been cause for serious concern. Remember, way back then we were just throwing people willy-nilly on respirators (it took a while for the top medical minds to agree that that was the worse thing to do). The death rate for 60 years old and above was high, and in the 70s and near 80s, fuhgedaboutit.
But in July 2022, it ain't no thang. Nowadays, a guy — and again, this is a guy whose own doctor has said he has an "increasing frequency and severity of 'throat clearing,'" a guy who has active atrial fibrillation, a guy with high cholesterol, acid reflux, spondylosis of the spine, all kinds of arthritis (he's 79!), has had cancerous cells removed, and has a body mass index of 25, which puts him in the "overweight" category — can get COVID-19 and be just fine.
How do we know?
Because that "guy" is President Biden.
And he's fine. Just fine.
Mr. Biden, vaccinated and twice boosted (always with cameras there to capture the momentous occasions), announced last week that he has COVID-19. Now, poof, gone. All better. --->READ MORE HERE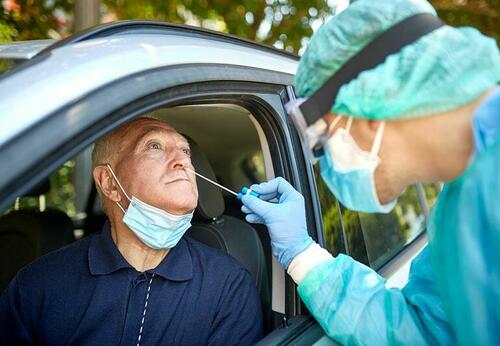 Layoffs Hit Labs As COVID-19 Testing Dwindles:
As at-home COVID-19 tests rise in popularity, U.S. laboratories are slimming their workforce and decreasing their capacity for processing PCR tests, The Wall Street Journal reported July 24.
U.S. labs can process about 62 million COVID-19 tests a month, which is half of their capacity levels reported in March, according to consulting firm Health Catalysts Group cited in the Journal report.
Because of diminishing government funding and less demand, COVID-19 test lab SummerBio laid off 100 workers, and CueHealth, which makes at-home molecular tests, laid off 170 people, about 10 percent of its workforce, according to the Journal.
SummerBio, a company that provides PCR testing for COVID-19, said it's switching to "standby-mode" because of a "dramatic reduction" in demand for lab-based testing, according to a July 25 press release. --->READ MORE HERE
Follow links below to relevant/related stories and resources:
Appeals court upholds Texas block on school mask mandates
Covid in China: Million in lockdown in Wuhan after four cases
USA TODAY: Coronavirus Updates
WSJ: Coronavirus Live Updates
YAHOO NEWS: Coronavirus Live Updates
NEW YORK POST: Coronavirus The Latest
If you like what you see, please "Like" and/or Follow us on FACEBOOK
here,
GETTR
here
, and TWITTER
here
.