Will the GOP Stand Up? Rep Calls to Impeach Biden's Open Borders Kingpin for 'Abandonment' of Border Laws:
A Texas Republican is urging his peers in Congress to commit to the impeachment of the man overseeing the nation's porous border under President Joe Biden.
In a letter to his fellow House Republicans on Wednesday, Rep. Chip Roy called upon his colleagues to commit to the impeachment of Homeland Security Secretary Alejandro Mayorkas, who he said has "embarked on the purposeful abandonment of the laws of the United States."
The congressman, who represents a San Antonio-area district, said the U.S. border with Mexico "is more dangerous, broken, and unsecure than ever" and "demands our immediate attention and collective call" for Mayorkas' impeachment.
"His actions have resulted in the death and endangerment of Americans, damage to property and communities across the border, loss of operational control of our border to dangerous cartels imprisoning thousands of migrants sold into human trafficking, and the fueling of deadly drug poisonings of thousands of Americans," Roy said. --->READ MORE HERE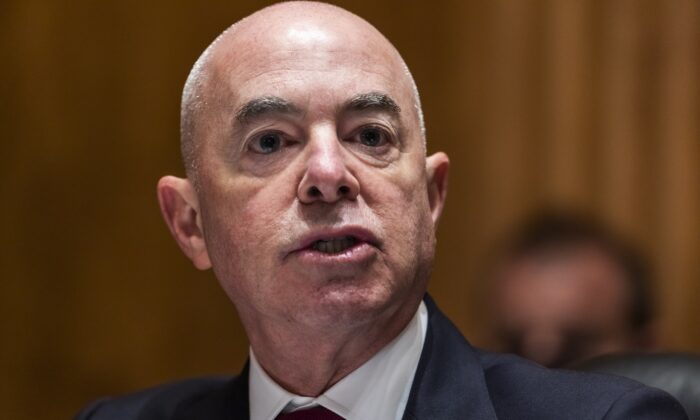 Jim Lo Scalzo/Pool/Getty Images
Rep. Chip Roy to Seek Impeachment Proceedings Against DHS Head Mayorkas:
Roy calls Mayorkas 'an accomplice to the violation of our laws and our national sovereignty'
Rep. Chip Roy (R-Texas) will attempt to bring impeachment proceedings against Department of Homeland Security (DHS) Secretary Alejandro Mayorkas, documents obtained by The Epoch Times show.
The move caps a full year of Republican dissatisfaction with Mayorkas, who as the DHS secretary is in charge of border security.
In the past year, the United States has seen unprecedented levels of illegal immigration.
While estimates of how many illegal aliens have entered the country since Biden took office vary, U.S. Customs and Border Protection data show that about 2 million people illegally crossed the border in 2021, a nearly fourfold increase from a year earlier.
In addition, deportation rates have plunged under Mayorkas's leadership of the DHS. In 2021, 68 percent fewer illegal immigrants were deported than a year earlier; compared to 2019, the DHS deported 78 percent fewer illegal immigrants. --->READ MORE HERE
Follow link below to a relevant story:
+++++IT'S ON: Rep. Chip Roy Urges House Republicans to Impeach DHS Sec. Mayorkas+++++
If you like what you see, please "Like" and/or Follow us on FACEBOOK
here,
GETTR
here
, and TWITTER
here
.