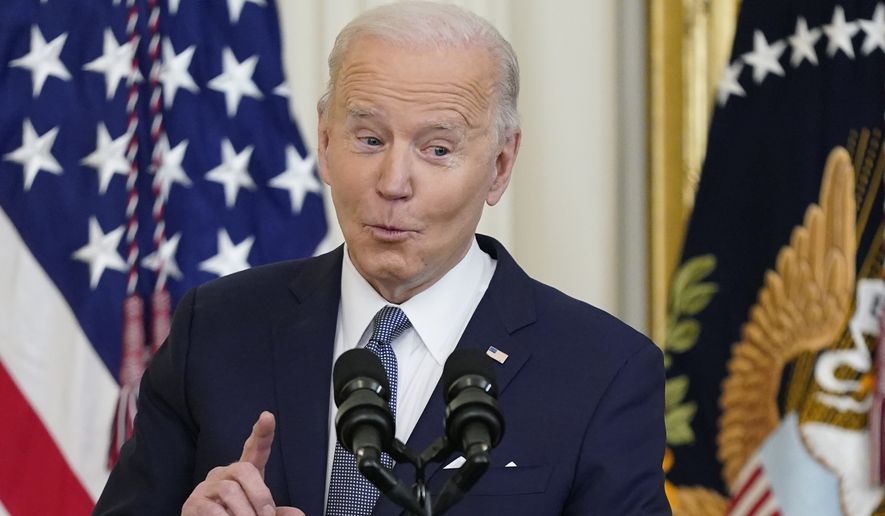 AP Photo/Patrick Semansky
Why is Biden financing Putin's war?
White House has forgotten actions have consequences
Oil and gas are Russia's largest exports and account for a substantial portion of its budget. Russia exports about 5 million barrels of oil per day and supplies Europe with 40% of its natural gas consumption. High oil prices are of great benefit to Russia and a killer for the economies of the non-oil and gas-rich countries.
It is straightforward supply and demand. Increase supply, the price of oil and gas drops for U.S. and European consumers, and the amount of revenue Russian President Vladimir Putin receives for his oil and gas drops, limiting his options. Restrict the supply of oil and gas, the price rises, consumers are hurt, and Mr. Putin's Russia benefits from the higher oil revenues (as does oil-rich Venezuela run by the dictator Nicolas Maduro). President Biden has taken many measures to restrict U.S. oil and gas production — hurting the American people and benefitting Mr. Putin and Mr. Maduro.
Two years ago, the U.S. was the world's largest oil and gas producer, making the U.S. self-sufficient in energy and a major exporter. As a result of Mr. Biden's war on oil and gas production, the U.S. is now an oil importer (including from Russia). Depending on the local market, gasoline prices have roughly doubled — costing the average family about $750 more per year to fill up the car.
There is one person responsible for bleeding the American consumer in the form of higher energy prices and making economic life easy for the thug Putin — and that is Mr. Biden. Mr. Biden seems to have given no thought (unless he is totally mean-spirited — or on the take) to the consequences of yanking oil pipeline permits, making it off-limits for much new and necessary oil and gas drilling, imposing costly and at times prohibitive new regulations on both existing and proposed production. Oil and gas production declines in each well over time, which is why it is necessary to constantly drill new wells to just keep up with existing production levels, let alone increase production.
Last week, Mr. Biden said his administration will do anything possible to increase oil and gas production to bring prices down. Yet, when he was saying this, his Justice Department and his various regulatory agencies were in court trying to prohibit new domestic production in many places. The man speaks with a forked tongue. --->READ MORE HERE
Biden ripped for buying Russian oil: 'We are being conned,' billionaire oil and supermarket CEO says
John Catsimatidis, the billionaire owner and CEO of New York City supermarket chain Gristedes, who is also in the oil industry, reacted to U.S. President Biden continuing to buy oil from Russian President Vladimir Putin.
Catsimatidis, who is also the CEO of United Refining, told "Cavuto: Coast to Coast," Friday that America is "being conned," and "lied to."
"We are still buying crude oil from Putin. We are wiring him money every day from the United States and payment for crude oil going into Boston Harbor. You know, we are being lied to. We are being conned."
President Biden said Thursday that the U.S. is working with other countries on a coordinated oil release from the global petroleum reserve in the coming days in a bid to reduce rising gasoline prices.
"That is the dumbest thing I ever heard," Catsimatidis said in response.
"If you release 50 million gallons, what is that going to do?" he continued. "The United States burns up a hell of a lot more every day. The answer is… you open up Alaska. You open up Canada… and then it's free-flowing." --->READ MORE HERE
Follow links below to relevant/related stories:
+++++Russian oil tankers still delivering to US as sanctions ramp-up over Ukraine invasion+++++
US, Germany Continue To Allow Gas Transactions With Russia Despite SWIFT Ban
If you like what you see, please "Like" us on Facebook either
here
or
here
. Please follow us on Twitter
here
.