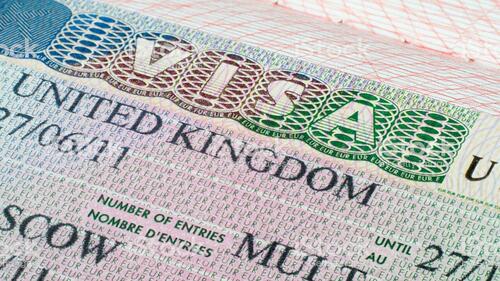 UK Urged To Take Action Against 'Golden Visa' Recipients Linked To Russian Government:
The UK government has been urged to take action against people granted so-called "golden visas" who have close links to the Kremlin and pose a security risk to the UK, following Russian President Vladimir Putin's order to send troops into eastern Ukraine.
The main opposition Labour Party has written to Home Secretary Priti Patel demanding answers to a series of questions about the Tier 1 Investor visa route for wealthy foreign investors, which the Home Office decided to scrap last week amid "security concerns."
The visa, launched in 2008, has often been called a "golden visa," as it offered residency to those investing £2 million ($2.7 million) or more in the UK, and allowed their families to join them.
Announcing the decision to scrap the visa scheme, Patel said she wanted to stop "corrupt elites who threaten our national security and push dirty money around our cities."
In a letter to Patel, Labour's shadow home secretary Yvette Cooper expressed her "deep concern at the lack of answers on how those visas have been misused, and the continued delays on acting to tackle abuse."
She said it is "immensely important that any individuals linked to criminality or who pose security threats already within the country under the scheme are quickly dealt with." --->READ MORE HERE
Lawsuit aims to bring EB-5 back from the dead
Lawsuit aims to bring EB-5 back from the dead
The EB-5 "cash for visas" program essentially came to a halt when Congress failed to reauthorize its regional centers last year.
Now one of these centers — crucial intermediaries between developers and foreign investors — claims they should be allowed to continue operating anyway.
California-based Behring Co. filed a lawsuit in federal court in California against the USCIS, the Department of Homeland Security, and the Department of State, alleging the agencies exceeded their authority in shutting down the centers last year.
EB-5 was once one of the hottest ways for developers to raise cheap financing for U.S. projects. They used the regional centers to pool investments from foreigners, who got visas in return. But challenges with visa applications and fraud caused the program to fall out of favor.
Things got even worse when Congress could not agree on a deal to reauthorize the regional centers program and let it expire last summer. Since then, investors, regional centers, and developers in the process of raising money through EB-5 have been in limbo, awaiting new legislation or guidance. --->READ MORE HERE
Follow links below to relevant/related stories:
+++++EB-5 Program for Russians+++++
EB5 BRICS LLC Comments on EB-5 Investor Visa Draft Bill Proposes Regional Center Reauthorization & Investment Amount Increase to $700K from $500K
A Lowly Magistrate Judge May Decide EB-5's Fate, Again
Immigrant investors on edge as EB-5 lapse enters eighth month
If you like what you see, please "Like" us on Facebook either
here
or
here
. Please follow us on Twitter
here
.