President Joe Biden's pro-migration border chief is offering work permits to the hundreds of thousands of young migrants who were smuggled into the United States via the "Unaccompanied Alien Children" (UAC) pipeline.
The new policy will provide "even more of a bonus for the smugglers and for the unscrupulous employers who look forward to being able to put these [UAC] minors to work in their poultry plants, restaurants, landscaping companies, and fields," said Jessica Vaughan, the policy director at the Center for Immigration Studies. 'They're going to rubber-stamp [the work permit applications] as quickly as they can," she added.
"I'm so happy [the government] is finally doing the right thing here and making it so young people with Special Immigrant Juvenile Status can support themselves and build a life," tweeted Laura Barrera, an immigration lawyer working at the Ohio State University in Columbus, Ohio. "I don't believe in deportation … in any case," she tweeted on February 5.
The program is a stealthy spin-off of the highly controversial DACA giveaway — the "Deferred Action for Childhood Arrivals" created by President Barack Obama in 2012 for roughly 800,000 migrants. Under DACA, officials give no-deportation passes and work permits to people who say they are illegal aliens.
"They're creating the next DACA-like population," said Rob Law, who worked at the Department of Homeland Security for President Donald Trump. "This is about giving work permits to the illegal-alien population … it's about establishing the class of next non-U.S. citizen workers in the country."
The numbers are potentially huge. In 2009, just 3,533 young people from Honduras, Guatemala, and El Salvador claimed UAC status as they crossed the border. The number jumped to 21,000 in 2013, and then 52,000 in 2o14. The UACs numbers dropped to 15,687 in 2020 under President Donald Trump's cautious policies but spiked to 114,0211 under Mayorkas's easy-migration rules.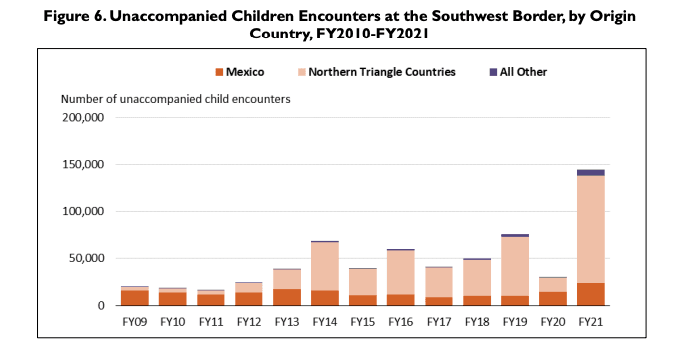 Overall, almost 600,000 UAC migrants had entered the country by January 2022, just 14 years after Congress unanimously passed the UAC law in 2008.
Biden's border chief is Alejandro Mayorkas at the Department of Homeland Security (DHS). Mayorkas is portraying the giveaway as a benevolent gift to abandoned young migrants, dubbed "Special Immigrant Juveniles," or SIJs.
"Today, we are taking action to help immigrant children in the U.S. who have been abused, neglected, or abandoned and offer them protection to help rebuild their lives," said a statement from Ur Jaddou, at Mayorkas's U.S. Citizenship and Immigration Services (USCIS) agency. "These policies will provide humanitarian protection to vulnerable young people for whom a juvenile court has determined that it is in their best interest to remain in the United States," said Jaddou.
Mayorkas is a wealthy and clever lawyer. His memo dismisses the impact of job competition on Americans' wages: "Exercising our discretion to grant deferred action and possibly authorizing employment provides significant benefits to the U.S. labor pool and the economy in general compared to delaying such status." For decades, that labor market has been tilted in favor of CEOs and investors by the federal government's policy of extracting migrants from many poor countries to work, rent, and consume in the United States.
Under the 2008 UAC law, young migrants can ask border officials to treat them as unaccompanied alien children — even when coyotes and cartels publicly deliver them to the border in chartered buses that are funded by the migrants' parents or by labor traffickers. Border officers then relay the blocs of supposedly unaccompanied migrants to the Department of Health and Human Services. The agency then relays the migrants to unverified sponsors after a security check, which is kept cursory because officials know the sponsors are usually labor traffickers or the youths' illegal-immigrant parents.
"Honestly, I think almost everyone in the system knows that most of the [migrant] teens are coming to work and send money back home," Maria Woltjen, executive director and founder of the Young Center for Immigrant Children's Rights, told a ProPublica reporter. "They want to help their parents," she said in a November 2020 article which cited the case of Garcia, a Guatemalan youth who used the UAC loophole in 2018:
Read the rest from Neil Munro
HERE
If you like what you see, please "Like" and/or Follow us on FACEBOOK
here,
GETTR
here
, and TWITTER
here
.