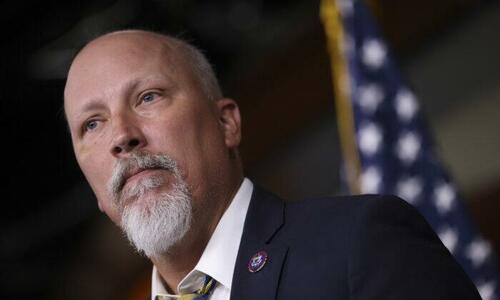 Cartels Have Operational Control Of US Border, Are "Terrorizing" The US, Says Rep. Chip Roy
Mexican cartels are making billions of dollars from drug trafficking, human smuggling, and exploiting the U.S. border, said Rep. Chip Roy (R-Texas).
Border Patrol agents apprehended more than 1.3 million illegal immigrants crossing into Texas from Mexico in 2021. Hundreds of thousands more weren't captured. Seizures of the deadly synthetic opioid, fentanyl, have sharply increased, as have overdose deaths in the United States.
"We have 100,000 Americans die from opioid poisonings. They're not really overdoses—they're poisonings," Roy told NTD's Capitol Report on Jan. 28.
"China is moving it through Mexico, cartels are making money, China is getting empowered, America's getting hammered—all because this administration refuses to do its job of securing the border."
The chemicals to make fentanyl are produced in China and shipped to Mexico, where counterfeit pills are manufactured, heroin is spiked, and other products are laced before being sent across the southern border.
U.S. Customs and Border Protection reported a 1,066 percent increase in fentanyl seized at south Texas ports of entry during fiscal year 2021. --->READ MORE HERE
Biden's Apathy Toward His Drug-Plagued Border Crisis Is Killing People:
Drug overdoses in the U.S., many fentanyl-related, reached record highs in 2021 and are on track to cause more deaths in 2022 as President Joe Biden ignores his ongoing crisis at the southern border, which is responsible for a large portion of drug trafficking in the nation.
Biden and his team at the White House are intentionally ignoring the growing border crisis even though since the beginning of the 2021 calendar year, border officials arrested more than 2 million illegal aliens, often aided and funded by the United Nations, at the southern U.S. border. Already, Customs and Border Protection data indicates that apprehensions on the U.S.-Mexico border in the 2022 fiscal year will exceed 2 million.
Not only are illegal aliens pouring across the border in what is arguably the nation's top humanitarian crisis, but so are lethal drugs such as fentanyl, which plays an increasing role in the number of drug-related deaths in the U.S.
In addition to creating national security problems, Biden's open border policies have ushered in a public health crisis that is responsible for many of the 100,306 drug overdose deaths in the U.S. from April 2020 to April 2021. In South Texas ports of entry alone, CBP seized 588 pounds of fentanyl in fiscal year 2021, a 1,066 percent increase since FY2020. --->READ MORE HERE
Follow links below to related stories:
Five Human Smuggling Attempts Foiled in South Texas in 11 Hours
WATCH: Human Smuggling Pursuits Skyrocket in Texas County near Border
Armed Human Smugglers Arrested in Texas After Crash on Railroad Track near Border
EXCLUSIVE PHOTOS: Cartel Gunmen, Mexican Police Clash in Border State Capital
If you like what you see, please "Like" us on Facebook either
here
or
here
. Please follow us on Twitter
here
.