Trump, supporters take victory lap after Pennsylvania court decision on mail-in voting:
Former President Donald Trump and his allies say they are vindicated after a Pennsylvania court struck down the state's no-excuse mail-in voting law enacted before the November 2020 presidential election.
The court decision aligns with pushback from GOP challengers who say wide-spread mail-in voting caused unprecedented chaos and tipped the scales in favor of President Biden in the state in 2020.
"All American Patriots are thanking the Commonwealth Court of Pennsylvania for having the courage to do the right thing," Mr. Trump said in a statement.
Mr. Trump, who has continued to claim that the 2020 election was rigged in favor of Mr. Biden, said the Pennsylvania decision calls into question the validity of mail-in voting practices across the country.
"Here is the key question: If widespread mail-in balloting is unconstitutional in Pennsylvania now, how could mail-in balloting have been constitutional in the RIGGED 2020 Presidential Election then?" he said.
The Commonwealth Court of Pennsylvania handed down its opinion Friday declaring that the 2019 law known as Act 77, violated the Pennsylvania state constitution.
The Pennsylvania law was a key focus for members of Congress who objected to the 2020 election certification in January of 2021. --->READ MORE HERE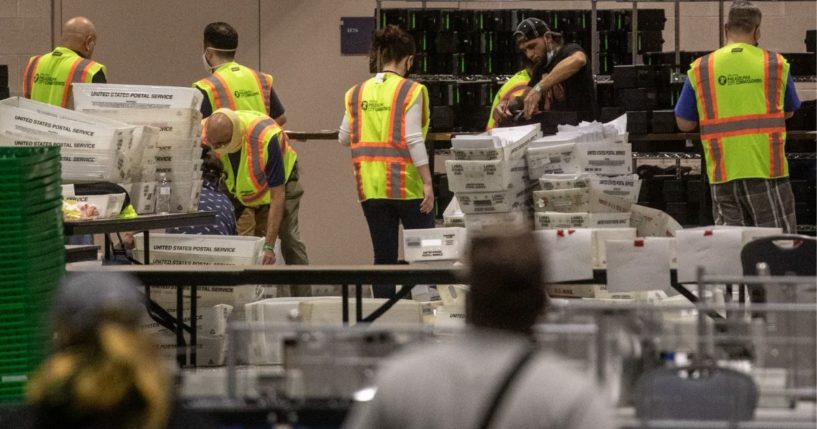 Pennsylvania Mail-In Voting Scheme Declared Unconstitutional After Seeing It in Action During 2020 Election: 'Our Votes Were Just Thrown Away':
A Pennsylvania court Friday struck down Act 77, the 2019 law that among other changes established no-excuse mail-in voting in the state.
Doug McLinko, vice chairman of the Bradford County Board of Commissioners in Pennsylvania, filed the suit, arguing that he was unable to legally perform his duties as commissioner and certify the 2020 election because the law is unconstitutional.
McLinko described the 2020 Trump-Biden election as a "mess" thanks to Act 77 and told Just the News, "Our votes were just thrown away."
Just the News reported that the legislation was supported by Republicans and Democrats and signed into law by Democrat Gov. Tom Wolf.
Republicans exchanged no-excuse mail-in voting, which the Democrats wanted, for ending the option of straight party-line voting on ballots, which Republicans favored. --->READ MORE HERE
Follow links below to related stories:
Court throws out Pennsylvania voting law
Pennsylvania court strikes down expansive mail-in voting law
Pennsylvania court declares mail-in voting law unconstitutional
If you like what you see, please "Like" us on Facebook either
here
or
here
. Please follow us on Twitter
here
.