Biden's Bungling Surged the Virus and Killed the Economy:
His Fraudulency Joe Biden won the 2020 presidential election based primarily on his promise to shut down the virus and not the economy. Well, here we are, one year into this presidency, and the exact opposite has happened.
As I write this, the coronavirus is surging to record levels. Meanwhile, the economy is stalling in ways that seemed impossible a year ago.
And all of this, every bit of it, is Joe Biden's fault.
On the "shutting down the virus" front, Biden stupidly placed all of his eggs into the "vaccine" basket. For whatever lunatic reason, he believed America could vaccinate its way out of the pandemic. Honestly, on what planet did Biden think that was possible when the vaccine does not stop those who are vaccinated from spreading or catching the virus? All the vaccine does is reduce your symptoms. Sure, there's no question the Trump Vaccine has saved lives and hospitalizations, but that still leaves us with a virus that can spread and infect.
Since the vaccine won't do it, one way to slow the spread is to have rapid tests readily available to everyone. Well, Biden failed to order enough tests.
Oh, and with about 20 percent of the public unvaccinated, one way to reduce deaths and hospitalizations would be through the therapeutics that we know work. But thanks to Biden's (and Fauci's) mismanagement and desire to bully people into getting vaccinated by withholding education and availability of alternative treatments, we also have a shortage of those.
What's more, Biden's vaccine mandates have done more harm than good in the fight against the virus. Hospitalizations surged to record levels this week while unvaccinated health care workers were fired. This makes zero sense. What's the rationale for mandates when the vaccine doesn't stop the vaccinated from catching or transmitting the virus? There is no rationale, so the result of the mandate has been only to make the virus worse and hospitals more short-staffed than ever. --->READ MORE HERE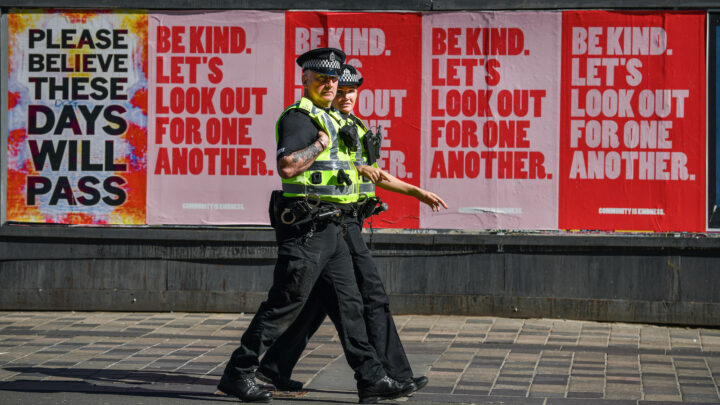 After Covid:
We won't get normality back without a fight.
Suddenly, everyone's talking about getting back to normal. After 22 months of restrictions, of going in and out of lockdown, of a suspension of civil liberties that was unprecedented in modern peacetime Britain, all the talk is of 'moving on'. Let's learn to live with Covid, politicians say. The UK could become one of the first major economies to move from 'pandemic to endemic and then deal with this', says education secretary Nadhim Zahawi. Even the Observer, which wasn't shy in its lockdown drum-beating over the past couple of years, is now doing splashes on experts who think it's time we put the Covid obsession behind us. 'End mass jabs and treat Covid like we do flu', said its front page on Sunday. What a turnaround. Not long ago, the Observer was in the frontline of branding those who spoke of Covid in the same breath as flu as dangerous loons.
The Observer's startling front page is about Dr Clive Dix, the former chairman of the UK's vaccine taskforce. He now thinks that 'mass population-based vaccination' should end. We should tailor vaccines to the vulnerable rather than jabbing everyone, he says. Moving forward, we 'need to manage disease, not virus spread', says Dix. There is also chat about cutting the isolation time for Covid, again, this time from seven days to five. Should we have to isolate at all? Given the mildness of Omicron, maybe not, some experts are saying out loud. 'Ultimately, we're going to have to let people who are positive with Covid go about their normal lives as they would do with any other cold', says one professor of medicine. Meanwhile, Sir John Bell, regius professor of medicine at Oxford University, says Covid is no longer 'the same disease we were seeing a year ago'. High death rates are 'now history', he says.
Reasoned voices seem to be to the fore now, while the shriller fearmongers of the cursed Covid era are on the backfoot. That might be one reason why their commentary is becoming ever-more frenzied – they sense that the clout and celebrity they enjoyed during the Covid terror is slowly slipping away. Leading alarmist Deepti Gurdasani is now accusing even the Guardian and the BBC, possibly the least lockdown-sceptical institutions in the land, of being sources of misinformation, all because they're saying that maybe, just maybe, the worst is behind us. This is typical of Covid authoritarians – they don't merely criticise those they disagree with; they accuse them of deliberately intending to deceive the populace, which, according to the dictionary, is one of the meanings of the word 'misinformation'. --->READ MORE HERE
Follow links below to related stories and resources:
Spain's prime minister calls for treating COVID as an 'endemic illness'
White House COVID test website launches Jan. 19 — but you could wait weeks for order
USA TODAY: Coronavirus Updates
WSJ: Coronavirus Live Updates
YAHOO NEWS: Coronavirus Live Updates
NEW YORK POST: Coronavirus The Latest
If you like what you see, please "Like" us on Facebook either
here
or
here
. Please follow us on Twitter
here
.