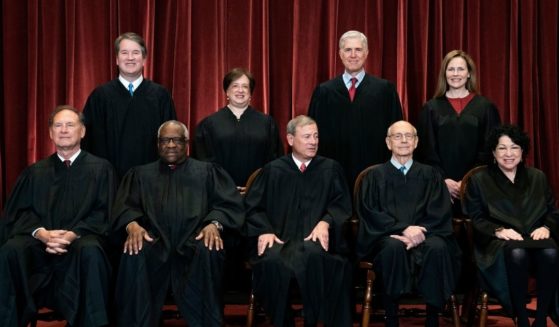 Supreme Court Makes Major Announcement About Biden's Vaccine Mandates:
On Jan. 7, the United States Supreme Court will listen to oral arguments in cases brought against President Joe Biden's COVID-19 vaccine rules for large employers and healthcare workers.
The hearing will take place during a special session that day, where judges will decide whether Biden's rules should be implemented or not, Bloomberg Law reported.
It would be a judgement on the amount of power the federal government can wield in fighting the pandemic, the outlet reported.
The cases being heard are National Federation of Independent Business v. Department of Labor, Ohio v. Department of Labor, Biden v. Missouri and Becerra v. Louisiana.
The major conflict in this legal battle would be over an emergency Occupational Safety and Health Administration rule that demands that those who employ over 100 workers must get their employers vaccinated or take tests frequently. --->READ MORE HERE
Supreme Court Sets Special Hearing on Biden's COVID Vaccine Mandates
The U.S. Supreme Court will hear arguments Jan. 7 in cases challenging two of the Biden administration's COVID-19 vaccine mandates. Those mandates would apply to more than 100 million Americans who work at private-sector businesses and health care facilities.
With compliance deadlines quickly approaching, the Supreme Court decided to step in and schedule an unusual Friday session for oral arguments.
The Heritage Foundation, a petitioner in the case challenging the Occupational Safety and Health Administration's COVID-19 vaccine mandate, asked the high court Saturday to halt the government's order. Heritage, a private employer with more than 100 workers, is subject to OSHA's requirement. (The Daily Signal is Heritage's news outlet.)
The court announced Wednesday it would hear two cases against OSHA: one from a coalition of states, led by Ohio, and the other from the National Federation of Independent Business.
Biden announced the private-employer mandate in September and OSHA issued its rule in November, estimating that 84 million workers would be affected. The agency ordered employers to "develop, implement, and enforce a mandatory COVID-19 vaccination policy" and required any workers who remain unvaccinated to "undergo [weekly] COVID-19 testing and wear a face covering at work." --->READ MORE HERE
Follow links below to related stories:
+++++Supreme Court to hear challenges to vaccine mandates in early January+++++
Supreme Court to hear challenges to Biden COVID-19 vaccine mandates
Supreme Court Will Consider Challenges Against Biden's Covid Vaccine Mandates Next Month
If you like what you see, please "Like" us on Facebook either
here
or
here
. Please follow us on Twitter
here
.