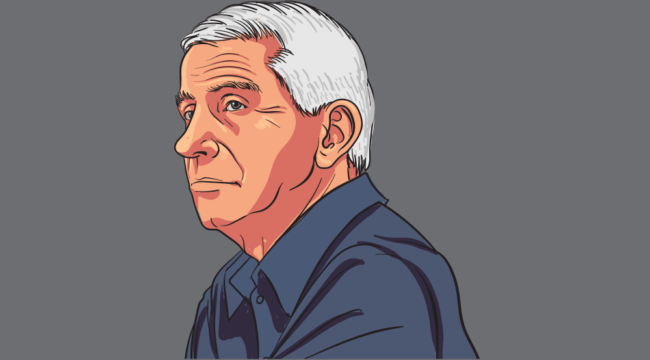 Fauci's Finished:
Tomorrow, Joe Biden is expected to address the nation about the new Omicron variant of the virus.
An aide claims the administration is "prepared for the rising case levels" and that Biden will explain how it "will respond to this challenge."
The Omicron variant is highly contagious. Some models, along with data from Europe, suggest the number of cases could potentially double every two days. Of course, you can't really trust models, but this variant is spreading rapidly.
The good news is that it doesn't appear to be particularly dangerous. Symptoms are generally described as those of a mild cold. But you can expect Biden to dial up the fear tomorrow.
He's probably going to try to shame the unvaccinated and warn about a "dark winter" ahead because of their refusal to take the jabs. For the fully vaccinated, he's going to tell them to get the booster.
We'll have to see what else he has in store, but you can be sure it won't involve telling everyone to take hydroxychloroquine or ivermectin if they start showing symptoms.
Changing Goalposts --->READ MORE HERE
Damning Emails Prove Fauci And Collins Colluded To Nuke Herd Immunity Strategies:
Emails between Collins and Fauci show that the bureaucrats teamed up to discredit COVID info that contradicted their lockdown push.
The outgoing National Institutes of Health Director Francis Collins and National Institute of Allergy and Infectious Diseases Director Anthony Fauci colluded to suppress alternative opinions about COVID-19 and herd immunity.
Newly released emails exchanged between Collins and Fauci during the height of the pandemic in 2020 show that the health bureaucrats teamed up to discredit information about COVID-19 that contradicted their tyrannical, pro-lockdown approach to curbing the virus.
In early October, experts in biostatics, immunology, public health policy, and more signed and released the Great Barrington Declaration (GBD) urging health officials to reconsider the dangerous COVID-19 lockdown policies that "will cause irreparable damage, with the underprivileged disproportionately harmed." Shortly after its publication, Collins emailed Fauci to orchestrate a "quick and devastating published take down" of the GBD and the doctors promoting it. --->READ MORE HERE
Follow links below to related stories and resources:
+++++WSJ Slams Fauci-Collins Devious Stifling of Coronavirus Debate+++++
Fauci Orchestrated 'Quick and Devastating' Takedown of Anti-Lockdown Experts
USA TODAY: Coronavirus Updates
WSJ: Coronavirus Live Updates
YAHOO NEWS: Coronavirus Live Updates
NEW YORK POST: Coronavirus The Latest
If you like what you see, please "Like" us on Facebook either
here
or
here
. Please follow us on Twitter
here
.