Census: Biden Drives Up Foreign-Born Population Across Swing States:
President Joe Biden's immigration policies have significantly increased the foreign-born populations across a number of swing states, United States Census Bureau data reveals.
The data, analyzed by Steven Camarota and Karen Zeigler at the Center for Immigration Studies, shows that the foreign-born population has now hit a record 46.2 million as of November 2021 — the largest share of immigrants, at 14.2 percent, in American history.
In the last year, alone, swing states saw their foreign-born populations grow by hundreds of thousands. In Florida, for example, about 615,000 immigrants were added to the state's population since November 2020.
Likewise, Arizona's foreign-born population grew by 173,000 immigrants, Wisconsin's by 156,000 immigrants, and Virginia's by 135,000 immigrants. The totals are an important factor in electoral politics as the margins of victories in many swing states are sometimes less than 10,000 votes.
"Hispanic immigrants accounted for 924,000 or 61 percent of the growth since last November," Camarota and Zeigler note. "This is an indication that illegal immigration accounts for a large share of the recent increase in immigrants. The federal government and outside researchers have estimated that nearly three-quarters of illegal immigrants in Census Bureau data are Hispanic." --->READ MORE HERE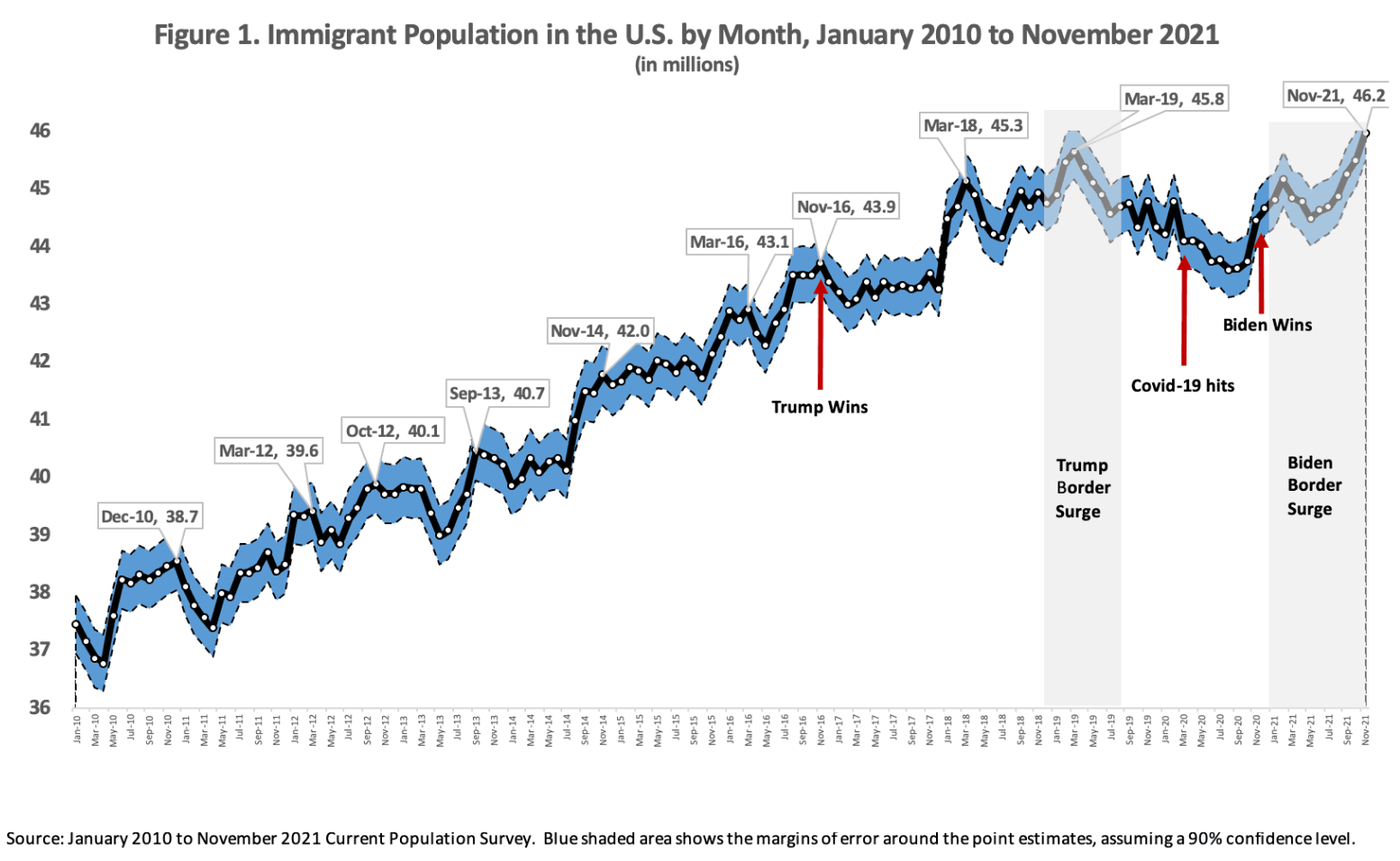 Immigrant Population Hits Record 46.2 Million in November 2021:
Census Bureau data: foreign-born population declined through mid-2020, then rebounded dramatically
An analysis of the Census Bureau's monthly Current Population Survey (CPS) from November 2021 shows the total immigrant population (legal and illegal) in the U.S. hit 46.2 million, the highest number ever recorded in American history. Immigrants are also referred to by the government as the "foreign-born". The overall immigrant population fell through the middle of 2020 and then rose dramatically after Biden's victory. There is a lot of variation from month to month in the CPS, so any change should be interpreted in light of this variability. The growth and size of the immigrant population in the CPS are important because, unlike arrival figures for legal immigrants or border apprehensions, the CPS measures the total number of foreign-born people living in the country, which is what ultimately determines immigration's impact on American society.
For the immigrant population to grow, new arrivals must exceed return migration and deaths. Births to immigrants, legal or illegal, in the United States do not add to the foreign-born as all persons born in the United States are considered native-born by definition. New immigration is offset by the nearly one million immigrants we have previously estimated are deported or choose to leave the country each year, and by natural mortality of roughly 300,000 a year among the existing immigrant population. The foreign-born in Census Bureau surveys includes all persons who were not U.S. citizens at birth — mainly naturalized citizens, lawful permanent residents, long-term temporary visitors, and illegal immigrants.
Among the findings: --->READ MORE HERE
If you like what you see, please "Like" us on Facebook either
here
or
here
. Please follow us on Twitter
here
.