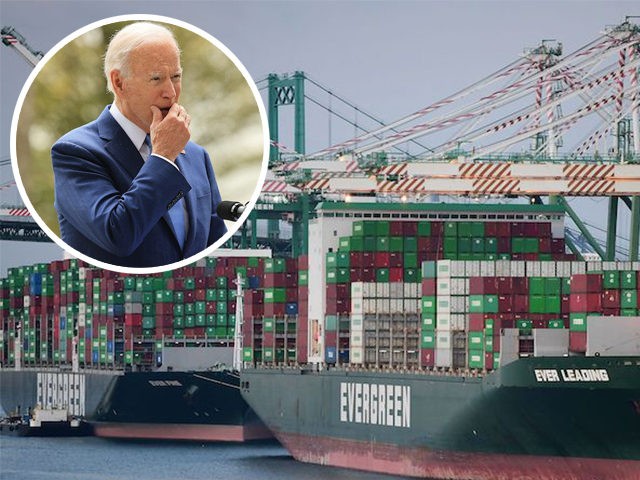 Biden's Plan to Relieve Backlog at Port of Los Angeles Is Not Working:
President Biden last week announced plans to increase the capacity of the Port of Los Angeles by extending its hours. So far, it is not working.
Biden announced on Wednesday of last week that the Port of Los Angeles has agreed to go to 24/7 operations. Essentially, this would mean allowing cargo owners to pick up goods between 3 a.m. and 8 a.m.
"This is the first key step to moving our entire freight transportation and logistical supply chain nationwide to a 24/7 system," Biden said.
He added that it could be a "game changer."
After a week, the game is largely the same. There are a record number of container ships in the waters near the Port of LA and the Port of Long Beach, which together handle 40 percent of container traffic coming into the U.S. The Port of Long Beach opened itself up to similar nighttime and weekend shifts a few weeks ago.
The problem is that there have been no requests from cargo owners to use the red-eye shift at the Port of L.A., according to a person familiar with the operations of the port. It's not clear if Long Beach has seen a pickup in demand for loading trucks during the 3 am. to 8 a.m. time slot. --->READ MORE HERE
PHOTOS: 66 Cargo Ships Hover Near L.A., Long Beach Ports; UPDATE: 100 Ships:
Sixty-six cargo ships were at anchor off the ports of Los Angeles and Long Beach, the busiest and second-busiest container ports in the United States, respectively, on Monday as an ongoing cargo crisis continued.
Update: The total number of ships anchored at the Port of Long Beach was reported Tuesday as 100, a new record.
The ships, visible for miles from the shore, were anchored in formation, almost like a military fleet, as they hovered near the coast, waiting for a chance to dock and offload their cargo — and as more ships continued to arrive from across the ocean.
The two port facilities are adjacent to one another (see map). According to statistics provided by the Port of Los Angeles, there were 33 ships at anchor for each of the facilities on Monday, with an average time at anchor and berth of 17.5 days. --->READ MORE HERE
Follow links below to related stories:
+++++Poll: Majority of Americans Say They Are 'Personally' Affected by Supply Chain Shortages+++++
'Record High': Biden's Supply Chain Crisis Is Short 80,000 Truck Drivers
Biden's Supply Chain Crisis Leaves Farmers Without Much-Needed Equipment
New Poll: Majority Of Americans Have Been Hurt By Biden's Supply Chain Crisis
If you like what you see, please "Like" us on Facebook either
here
or
here
. Please follow us on Twitter
here
.