'Enough is Enough': Protest Against Illegal Migration Held in Dover as Over 400 More Boat Migrants Land:
Over 400 illegal boat migrants landed in the space of 24 hours as a protest was held in Dover against the growing migration crisis in the English Channel.
On Saturday, some 144 migrants were recorded landing on British soil, following 336 landing on Friday, according to BBC reporter Simon Jones.
While migrants were being escorted by the British Border force through the Port of Dover, where they were brought ashore to be processed by immigration officials, police made four arrests of anti-immigration activists during a protest in the English coastal town.
Protesters staged a sit-in on Snargate Street, blocking off the road for at least an hour, waving flags, carrying banners reading "Stop the Invasion", and chanting "enough is enough".
One protester, dubbed Brexit Brian, told local news outlet Kent Online that he is not "far-right" but came to the protest to stand up for the principle of stopping illegal migration into Britain.
"So many of us are upset about with the government and their policies, especially as most of us in this country have been on lockdown and it seems that the illegal immigrants have not had the same lockdown conditions that we have had," he said.
Responding to whether he is "far-right" or a supporter of the National Front, Brian said: "That's not the case at all. I'm simply a patriot — I know it's an anomaly, people might think 'what's a black guy doing [here]' — but actually it has nothing to do with being black or white, it's to do with the principles, the principles of illegal immigration, it's got to stop." --->READ MORE HERE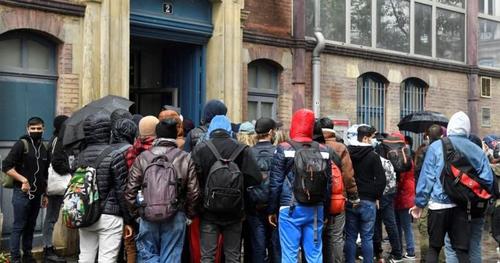 71% Of French Say "We're Full": No More Immigration:
A new poll has found that 71 per cent of French people think the country has had enough immigration and that it can't take any more.
The 2021 Fraternity Barometer, a joint effort by the polling firm Ifop and le Labo de la Fraternité, found that almost three quarters of respondents desired to see no more immigration, while a clear majority of 64 per cent said France should no longer accept refugees because of the threat of terrorism.
France has suffered numerous terror attacks carried out by jihadists who were let into the country as "refugees," including the majority of the Paris massacre terrorists.
As we previously highlighted, even so-called "moderate" Michel Barnier, who was the EU's chief Brexit negotiator, is calling for a 3-5 year total ban on all immigration into the EU. --->READ MORE HERE
Watch: Spanish Soldiers Throwing Migrants Into The Sea:
Video footage shows Spanish soldiers beating migrants and throwing them into the sea after thousands reached European soil as a result of Morocco deliberately loosening border controls to punish Spain.
BET YOU CAN'T WATCH THIS ONLY ONCE:
Images of Spanish soldiers beating migrants/refugees and throwing them into the sea on the Moroccan border. #EU #HumanRightspic.twitter.com/i5E634U1yi

— Josep Goded (@josepgoded) May 18, 2021
Read the rest of the story
HERE
If you like what you see, please "Like" us on Facebook either
here
or
here
. Please follow us on Twitter
here
.