The People's Republic of Oregon Imposes First Vaccine Passports and Conscripts Businesses and Churches to do its Spying:
It has come to this. Oregon health officials have approved the rollout of vaccine passports, requiring houses of worship, employers, and businesses to check the vaccine records of adherents, employees, or customers in exchange for being able to take off their masks indoors.
That's right: in order to gain freedom from masks indoors, Oregonians must show their papers to show they've complied with state's unique and oppressive plan to get more people vaccinated. Presumably, people unwilling to show their papers will be reported. Businesses and other entities under the new rules will be "investigated" if they're found breaking the rules.
Liberal feminist Dr. Naomi Wolf was in Oregon the day the vaccine passports were imposed. She's recently labeled vaccine passports tyrannical and called it straight-up discrimination.
Sad day in history. I am in Oregon and May 19 2021 OR became the first state in the union to demand businesses, houses of worship, discriminate against citizens based on vaccine passports. Join the fight to end this: DailyClout Five Freedoms campaign is meeting w OR legislators. --->READ MORE HERE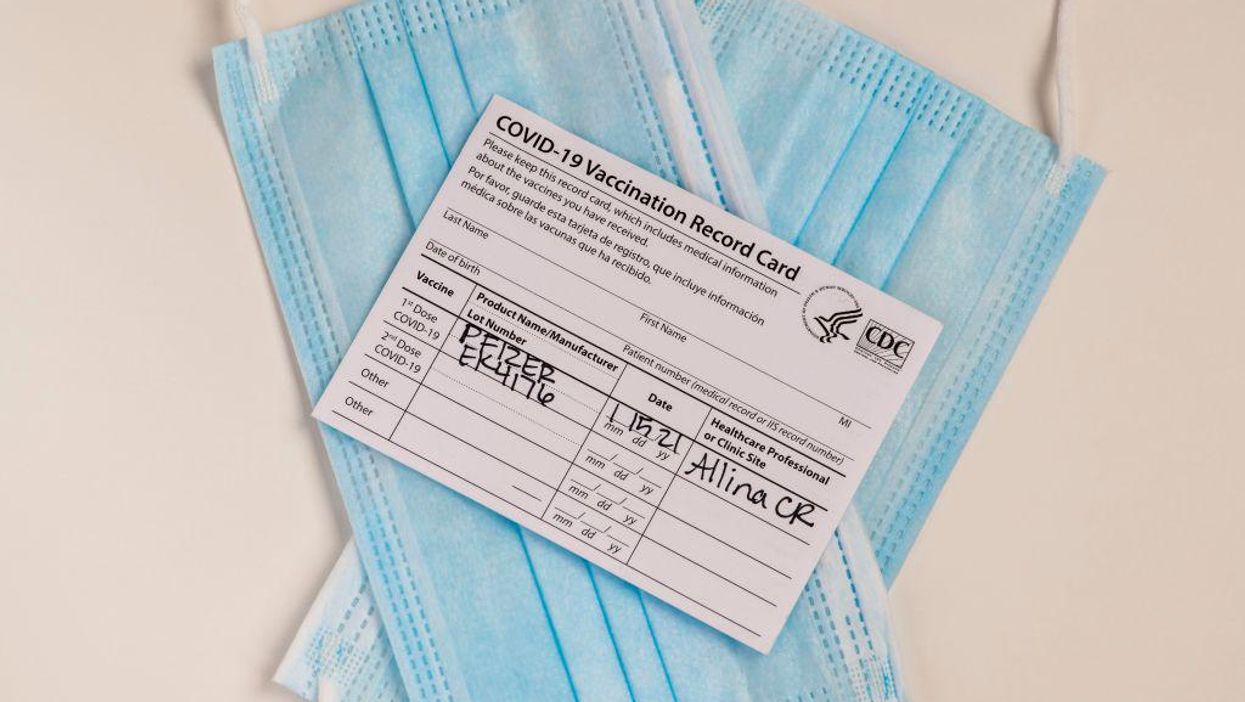 In order to go maskless into business or church in Oregon, individuals must first present proof of COVID-19 vaccination:
Oregon lifted the face mask mandate for people who have been fully vaccinated against COVID-19, but also implemented a stipulation that a business or church must require maskless entrants to show proof of their coronavirus vaccination. The business or house of worship must then review the vaccination card to ensure that it is authentic.
Last week, the Centers for Disease Control and Prevention announced that fully vaccinated Americans could go maskless outdoors and in most indoor settings. On Tuesday, the Oregon Health Authority updated its mask guidelines.
"All businesses, employers and faith institutions are required to continue to apply and enforce the mask, face covering and face shield guidance, and physical distancing requirements in state COVID-19 guidance to all individuals," the guidance states. The business, employer, and faith institution can allow individuals without face masks and not enforce social distancing if the institution has a "policy for checking for proof of vaccination status of individuals."
The organization must request "proof of vaccination status from each individual" and review each person's proof of vaccination before they are granted entry. ---->READ MORE HERE
Follow links below to related stories and resources:
New COVID-19 cases plummet to lowest levels since last June
22 States Now Dropping $300 Weekly Unemployment Boost Amid Mounting Job Shortage
USA TODAY: Coronavirus Updates
WSJ: Coronavirus Live Updates
YAHOO NEWS: Coronavirus Live Updates
NEW YORK POST: Coronavirus The Latest
If you like what you see, please "Like" us on Facebook either
here
or
here
. Please follow us on Twitter
here
.