AOC Demands Reparations for Migrant Families, Blames America for Conditions in Their Home Countries:
After refusing to condemn the Biden border crisis for weeks, Democratic Rep. Alexandria Ocasio-Cortez of New York finally weighed in — but she blamed the United States for the influx of illegal aliens and demanded that migrant families get taxpayer-funded "reparations."
The former bartender made the absurd remarks during a virtual town hall Wednesday when she decried the squalid conditions at the overcrowded detention centers, which Americans are bankrolling amid a recession induced by pandemic-related government shutdowns.
Ocasio-Cortez called the facilities "inhumane," "horrifying," "unacceptable" and "barbaric."
IMMIGRATION: Rep. @AOC says Trump Admin. policies were "human rights violations" and victims deserve reparations, but conditions under the Biden Admin. are still "barbaric." pic.twitter.com/utw5GZbLNd

— Forbes (@Forbes) April 1, 2021
Reminder: Many of the detention centers were built under former President Barack Obama and then-Vice President Joe Biden. --->READ MORE HERE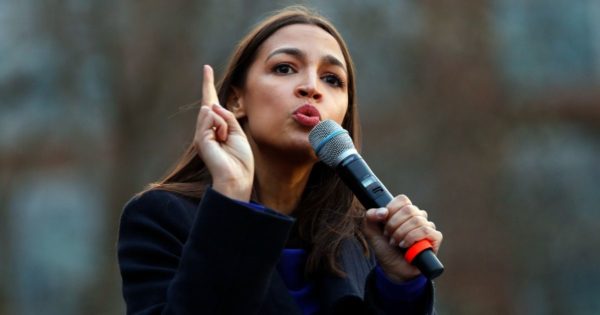 'Tweeting Is Easy, Governing Is Hard': AOC Ranks Near Bottom in Nonpartisan Study of Lawmakers' Effectiveness:
Democratic Rep. Alexandria Ocasio-Cortez of New York has the sizzle but not much substance to show for it, according to a new study.
The Center for Effective Lawmaking reviewed the 21 bills Ocasio-Cortez introduced in the previous Congress and found she got a great big goose egg for results.
Her legislation never was acted upon by a House committee, had no floor votes and resulted in a grand total of zero new laws, the study showed.
"She introduced a lot of bills, but she was not successful at having them receive any sort of action in committee or beyond committee and if they can't get through committee they cannot pass the House," Alan Wiseman, a Vanderbilt political scientist and co-director of the center, told the New York Post. --->READ MORE HERE
If you like what you see, please "Like" us on Facebook either
here
or
here
. Please follow us on Twitter
here
.