EXCLUSIVE — 'Reception centers': Biden eyes friendlier name for new migrant facilities:
The Biden administration is weighing a new name for the facilities it is setting up to manage the influx of migrant children and families at the southern border, hoping to limit the criticism and emphasize that the buildings will hold people only temporarily.
Biden officials are considering naming the facilities "reception centers," according to three people familiar with the discussions, on the logic that the name is less harsh-sounding.
The name would distinguish the facilities, one of which has been set up in Carrizo Springs, Texas, from existing structures maintained by Immigration and Customs Enforcement and the Department of Health and Human Services's Office of Refugee Resettlement. Images of one such Border Patrol facility led to criticisms that President Donald Trump held children in "cages." Often, other such buildings are called "detention centers" or "holding facilities."
In particular, one official said, the new name would mark the Biden administration's intention to use the "reception centers" not for holding people in custody, but for serving as sending-off points for releasing migrants into the United States. --->READ MORE HERE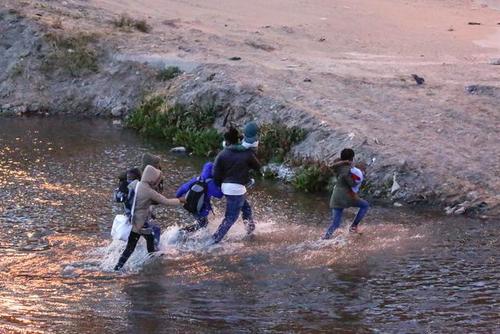 "Days Away From A Crisis": 100,000 Illegal Immigrants Arrested At US Mexico Border; Most For February In 15 Years:
This may come as a shock to Joe Biden supporters.
Rep. Henry Cuellar (D-Texas), whose Congressional district lies near the U.S.-Mexico border, warned that more than 10,000 illegal immigrants have been apprehended in a single border sector in Texas in about a week, with Reuters adding that a stunning 100,000 migrants were detained at the border in February, the highest arrest total for the month of February since 2006.
"We are weeks, maybe even days, away from a crisis on the southern border. Inaction is simply not an option," the Texas Democrat said in a news release on Thursday.

"Our country is currently unprepared to handle a surge in migrants in the middle of the pandemic." --->READ MORE HERE
If you like what you see, please "Like" us on Facebook either
here
or
here
. Please follow us on Twitter
here
.