Democrats set 117th Congress stage for godlessness:
Democrat Rep. Emanuel Cleaver opened the 117th Congress in a prayer — of sorts — to "the monotheistic god, Brahma, and god known by many names by many different faiths." And then he wrapped with "amen and a-woman."
It doesn't get any clearer than that. With this prayer, Dems are essentially giving the boot to God from government.
From politics.
From America.
Democrats may have not dared to vote to take "God" out of their party platform this year — no doubt, because of the furor and bad press that came when they tried to do that in 2012.
But they moved to remove Him just the same.
Brahma is a the name Hindus turn to when they want to explain creation.
"In order to help him create the universe," the website Learn Religions wrote, "Brahma gave birth to the 11 forefathers of the human race called 'Prajapatis' and the seven great sages or the 'Saptarishi.' These children or mindsons of Brahma, who were born out of his mind rather than body, are called the 'Manasputras.'" --->READ MORE HERE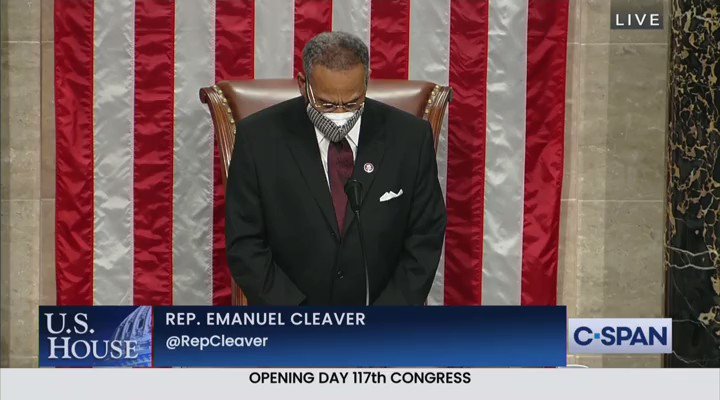 Ben Shapiro mocks Democrats over 'amen and a-woman' prayer: 'Dumbest s--- I have ever seen':
Prominent Republicans were unhappy with Rep. Emanuel Cleaver's attempt to assign a gender to the word 'amen'
Conservative commentator Ben Shapiro blasted Rep. Emanuel Cleaver, D-Mo., Monday for his "idiotic" closing of the 117th Congress' opening prayer in which he altered the traditional ending of "amen" to "Amen and a-woman."
"The prayer with which Congress opened is, I believe, the stupidest thing that I have heard in all my life," "The Ben Shapiro Show" host said on his podcast Monday morning.
Cleaver's prayer provoked fury among Republican lawmakers and other prominent conservatives who said he was wrong to attempt to assign gender to the word "amen."
Shapiro noted that the term "has literally nothing to do with gender," and derives from a Hebrew word that communicates affirmation or solidarity, and in the context of prayer, translates to "may it be so." --->READ MORE HERE
Follow links below to related stories:
Prayer Opening 117th Congress Concluded with Utterly Bizarre Ending
'Unbelievable': House Democrat's opening prayer ends with 'amen and a-woman'
Politician causes confusion after finishing prayer with 'Amen and a woman'
If you like what you see, please "Like" us on Facebook either
here
or
here
. Please follow us on Twitter
here
.