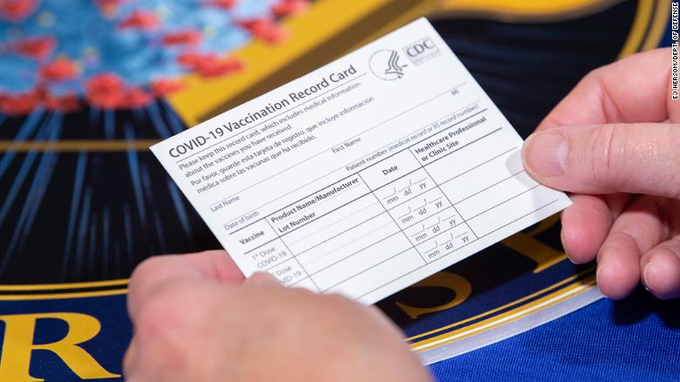 Here's the Worrying COVID Vaccine Card the Government Is Planning To Issue:
The rollout challenges on COVID-19 vaccines aren't just logistical. There's also the matter of uptake.
While the vaccines from Pfizer and Moderna were both over 90 percent effective in trials, polls found Americans divided over whether they'd take the vaccines for themselves. A survey from Pew Research, conducted between Nov. 18 and Nov. 29, found that 60 percent of Americans would definitely or probably get the coronavirus vaccine compared with 39 percent who definitely or probably wouldn't.
This is up from 51 percent who said they would definitely or probably get it in the same poll in September, but it's not a ringing endorsement — particularly given the poll was conducted after the Pfizer and Moderna trials showed the vaccines were effective.
So, what's the best way to shore up confidence in the vaccination process? --->READ MORE HERE
Wales will give residents ID cards to prove COVID-19 vaccination:
Welsh people will be given so-called "immunity passports" proving that they've gotten the COVID-19 vaccination, the country's health minister said Friday.
The rollout of the "credit card-sized" cards in Wales comes days after the United Kingdom became the first country to approve a vaccine against the deadly bug — with the first jabs expected to begin shortly. --->READ MORE HERE
Follow links below to related stories and resources:
Side effects from the COVID-19 vaccine means 'your body responded the way it's supposed to,' experts say
Trump will sign McConnell's skinny COVID-19 stimulus bill, Mnuchin says
USA TODAY: Coronavirus Updates
WSJ: Coronavirus Live Updates
YAHOO NEWS: Coronavirus Live Updates
NEW YORK POST: Coronavirus The Latest
If you like what you see, please "Like" us on Facebook either
here
or
here
. Please follow us on Twitter
here
.